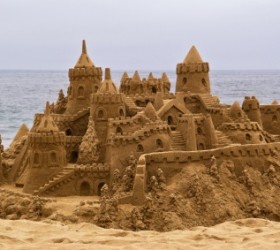 List of Best Beach Sports and Activities
After the long cold winter, when you see the first colour of the oncoming season, you know it is time to bundle up your heavy woolen garments and bring out your cool summer wear. As the sun peaks out and the colours return to the world, for most of the world, it is holiday season. Excepting those who again run off to the mountains for further snow and cold, the rest of the world is drawn straight to the beaches to enjoy the sun and the shimmering water after months. But one is faced with the evident question- what to do at the beach? For many simply lazing on the sand, getting a tan and sipping on fancy cocktails is the ideal beach holiday but for more adventurous and daring people, there a number of fun things to do at the beach. Below is a list of the best beach sports and activities which includes beach activities for kids as well as beach party games for adults.
Beach Baseball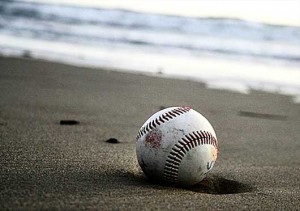 Beach sports are very popular on beaches where the waves are quite far away and not ferocious. A serious game of baseball can be turned in to a fun sport on the beach. All the paraphernalia is not required and it can be played with just a bat and a ball. For baseball at the beach, the marks can be sketched on the sand if needed. It is also advisable to use a beach ball since they float on water rather than a baseball which can sink if thrown too far. Score-keeping is always not necessary as everybody is a winner at the end of a fun day at the beach!
Snorkelling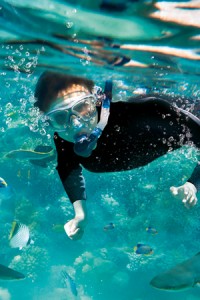 Among the beach activities for adults and suitable for all ages and not much equipment needed, snorkelling appeals to all beach-goers to explore the immediate sea life with the freedom of breathing. All that is needed is a snorkel, a diving mask and usually fins. The snorkel is a tube which is attached to the diver's mouth allowing him to breathe while head is underwater. No training or certificate is required for snorkeling and it is more readily available at beaches as water sports and among best beach sports and activities.
Scuba Diving
For the explorers and the discoverers, scuba-diving is the ultimate beach activity to be enjoyed either alone or with a partner. Since we know only 20% of the ocean around us, sea exploration is no less than travelling to space, though much cheaper and quicker and more rewarding! However, a few basic tips need to be maintained. First, you must get a certificate for scuba-diving. There are numerous training centers on the beaches which has provision for scuba-diving and it is among the best beach sports and activities. One can take a simple course and then get certified as a temporary scuba diver. Instructors are also available to go along as the ocean is full of surprises and danger. Also, it is important to have it included in travel insurance. Once all such precautions are taken, jump into the ocean and get lost (no pun intended) in the vast under sea life.
Deep Sea Diving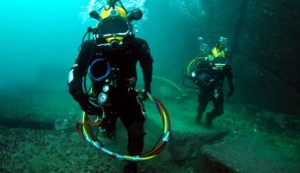 Among the extreme water sports, deep sea diving involves diving to about 100-130 feet with proper equipment and safety measures. It needs to be done under the proper supervision of trained instructors and even the divers need to have a minimum training and a certificate. A lot of safety measures are needed along with mental stability for deep sea diving. Helmets, oxygen supply, diving boots, proper diving suit among other pre-requisites. Before deep sea diving, one need to validate the authenticity of the instructors and the institute which allows for tourists to go for deep sea diving. The deep waters are enticing and the mystery is alluring to many but the process involved is too complicated for all to try. However, it is totally worth once you get down and become one of the aquatic creatures yourself!
Sea Kayaking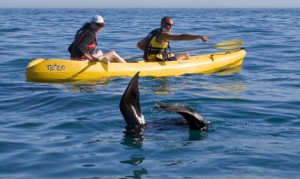 A kayak is a boat which is shaped like a canoe but lower and the sitting position of the paddler is different. He is required to sit face forward with his legs in front and use a double-bladed paddle to row from front to back, alternating the sides. Most beaches have inflatable kayaks for tourists and are quite popular for best beach sports and activities. Though a kayak is used to take the diving gear to a point and dive, simple kayaking is a water sport on many beaches across the world.
Parasailing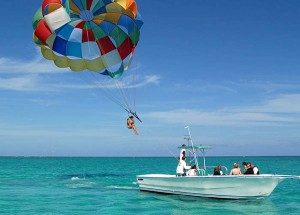 Also a favourite with beach-goers, parasailing involves a canopy attached to the parasailer which is fitted to a boat or a car and driven or rowed about, with the parasailer gliding behind. It is also called as the water parachute when done by a speedboat above water. It one of the simplest beach sports to be tried and very safe if done by professionals. Care should be taken as not to drive nearby posts and to avoid birds. Also, since the parasailer has no control over the steering of the canopy, it is up to the people in the car/boat to guide it. Speed, surroundings and weight are some of the factors to be kept in mind before parasailing. Parasailing in Myrtle Beach is a dream of avid parasailers as well as tourists in that region, considered among best beach sports and activities.
Kitesurfing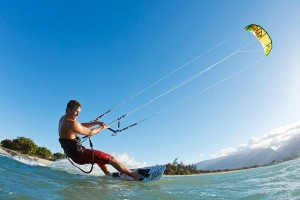 Among the different type of sports at the beach, Kiteboarding or kite surfing is a water sport which is a combination of wake boarding, surfing, paragliding and gymnastics to give one of the best water extreme sports. It should be in no way tried by amateurs or children. Only after thorough training can this water sport be attempted at. It involves harnessing of the wind power to propel a wakeboard or surf board across the surface of the ocean. The kite surfer may or may not wear footstraps or bindings according to his preference. In exotic beaches such as Turkey, Miami, Maldives, Philippines there are kite surfing tournaments. Featured among the extreme kites games, kitesurfing makes adrenaline rush straight to the heart and one can feel life on the edge!
Jet Skiing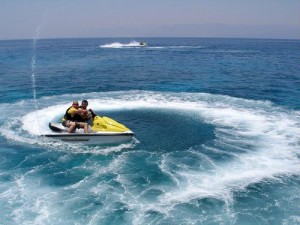 Famous with tourists, jet skiing is a very popular water sport with the young generation. It is usually a small vehicle with a vague resemblance to a scooter which is single-seater. It skims across the water on a flat keel and is controlled by handles. One must know how to drive a motorcycle to safely maneuver a jet ski but the thrill of jet skiing remains unparalled till date!
Paddle Boarding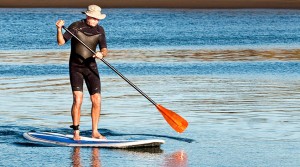 it is among those beach water sports that do not require much training or instructors. Though it can be quite tiresome. The paddler lies down on a surf board and surfs through the ocean with the swimming motion but only with the hands. A variant of this is stand up paddle boarding where the paddler stands up and uses a separate paddle to "row".
Volleyball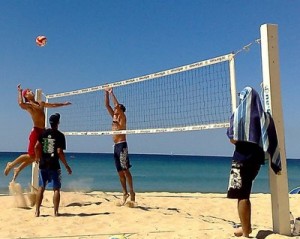 Undoubtedly the cheesiest beach game ever, having been played since beach games were started, volleyball is a great way to enjoy with the family as well as others on the beach. All that is needed is a net, a ball and a bunch of people to get the fun going on for hours on a beach. This is the oldest and the simplest of the beach sports which can be played with a number of people. To remain within the spirits of the game, one must not get overly competitive or aggressive. Remember, it is the beach and it is spelled F-U-N! It is best to play safe as volleyball can take a toll on the feet and ankles. Make sure a pedicure awaits those delicate feet post a beach volleyball session, ladies!
Beach Party Games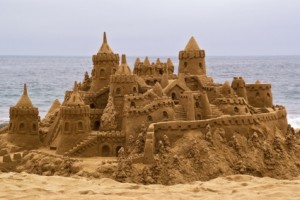 If you and your friends are to take a weekend off from work to enjoy the sun and get an escape from the mundane routine, the best way to wind down is to party. Reach the beach after sunset and build a bonfire. Gather around with drinks and play drinking games. You can also play the old school truth-and-dare and give crazy dares such as take a shot in the ocean. But it is beast to be responsible and not get too carried away. Afterall, tides can be dangerous and no one should get down to the beach if too drunk or it is too dark.
Beach games for kids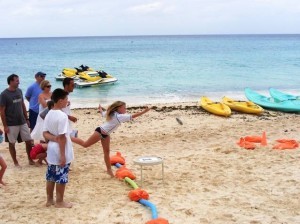 Kids simply adore the beach. They can get as dirty as they want and just take a quick guided dip in the water to be clean again! There are a variety of fun things to do at the beach for kids. The all-time favourite fun beach game remains the classic sandcastles. A bucket, spades and a host of other household items can be used as the kids prefer to build castles of various sizes. Another favourite are sand-men. Just pile up a lot of sand, put on eyes and mouth and a hat and your sandman is ready! Sand Pictionary, mini-pools, tiny barbeque grill are among the other things to indulge in to make the kids get the most out of their beach day out!
The best beach activities are to be found on most advanced beaches and it is always recommended to do your homework before trying a water sport as they can get very dangerous and life-threatening. It is best to play games since there are a million games to play at the beach. Almost any typical game can be played at the beach to make it more interesting. Best beach games where both adults and kids can pitch in are making sand-castles, improvising a bowling session, beach volleyball, etc. Though beach sports adds adventure, it is best to stay safe and have fun!