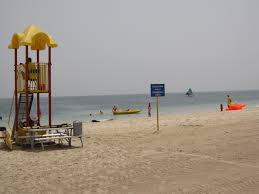 Beach is exclusively meant for relaxation. Be it vacation or official tour, the combination of sand and sea is enough to replenish yourself.  Saudi Aramco beach is a private beach that gives a feeling of being secluded. On a holiday, tourists always prefer privacy and tranquility. If you want to spend a peaceful outing on the shore of a sea line, this is just the best choice for you. This private area is under the Saudi Aramco Oil Company.
This Saudi beach is located in the eastern corner of Half moon bay which is adjacent to Dhahran city. Kids enjoy the shallow water to swim but there are slabs of rocks that you have to avoid. Women are not permitted to wear short exposing beach dresses but covered swim suit is allowed in Saudi Arabia beaches. Public cabins for family are open for the tourists. It offers separate toilet, water tank and BBQ. Soft sand and waves will take you to a new world of beauty and amity. At Dhahran, there are many parks run by the Aramco community. Comfortable weather of the sea shore, countless palm trees, covered tables, good food and yacht club helped the locality to gain popularity as a hot picnic spot.
Things to catch at Aramco Beach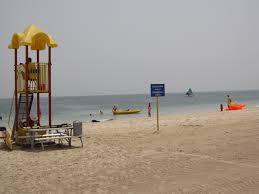 Don't miss the exclusive Aramco exhibit centre which is carrying the legacy of Saudi Arab's oil industry. They sometime run a documentary to show the oil refinery. Take a halt at the half moon bay and rent any available ATP to enjoy the sand dunes. People go to the nearby beaches in Saudi Arabia and enjoy in the dunes with their SUV cars. Go to the town Hofuf if you want to buy anything from curio. An old fort is regarded as a tourist spot and often captured in photographs. Beach always gives refreshing moments to carry forward in life. Aramco is amazing with its serenity.