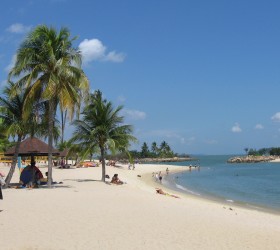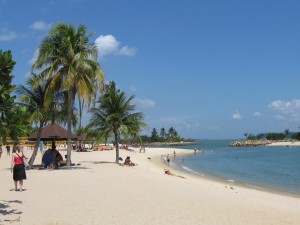 There are lots to explore when you are one of the planned cities of the world. Singapore is no doubt a developed nation that has experienced a rapid growth in various sectors. Apart from being a concrete jungle, Singapore is known for its natural beauty. To discover the scenic beauty you must check out the best beaches in Singapore.
Tourists always look for solitude and land up in the white long sandy stretch of Sentosa. There are three beaches – Palawan beach, Siloso beach and Tanjong beach with their own distinct features. Being on the south shore, Tanjong Beach is one of top beaches in Singapore but comparatively less crowded. Like any another Singapore best beaches, this place is also very clean and well-maintained where you can sit idle hours after hours watching the simple wave rolling at your feet. Beds are stretched for your relaxation. Good food and music are essential to spend a relaxing day. The adjacent bar offers both at a low cost. Singapore best beaches turn romantic at night with the twinkling stars. The shining ship lights create a picturesque background at night in this particular beach. At weekends the club near the beach goes on a celebration mood with vibrant parties. Night life at this club is equally famous and loud. The sea at Sentosa is meant for water sports activities like wave riding and kayaking but Tanjong offers limited events on the beach front.  Young crowd play volleyball, frisbee and kids make sand castles. This is a popular spot for fishing. Outdoor showers and container- type toilets are available. You can park your car in the parking lot. Those who come to beaches to unwind themselves, this beach is just ideal for them.
How to reach Tanjong Beach
The easiest and fastest way to be on the beach is by taking a cab. You can avail tram which is connected to Palawan beach. Bus service is also available. If you travel by train get down at the beach station. Go to other beaches and enjoy the Singapore beach vacation.