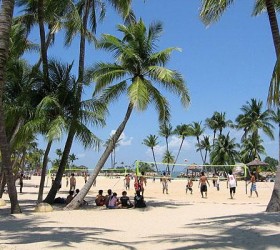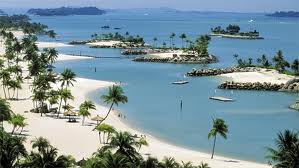 Take a break from the regular activities that have turned life monotonous. Visiting any beach is an escape from the boredom of life. Bustling city life of Singapore is stood upon high rise buildings, various shopping centres, tram and mass rapid transit. The urbanised city can't give you the pleasure of being solitude which you can get at Sentosa Island. Don't give it a miss if you are in Singapore.
Sentosa Island comprises of three spectacular beaches that you must visit during your stay. Siloso beach is considered as one of the best beaches in Singapore where excitement rules over boredom. Unlike Tanjong beach, Siloso offers many things including various water sports and recreational activities. Cool bars and restaurants are in abundance to chill your mood. Light music goes well with cocktail that you can give a sip when relaxing on a stretched chair. Fun-loving people wearing beach costumes roam about this part and dive into the clear sea. Here you can try kayaking, cycling and skim-boarding. People throw party at this beach and it also celebrates various festivals throughout the year. The vibrant beach attracts tourist who come to enjoy Singapore beach vacation.  This is one of the top beaches in Singapore for sports enthusiasts.
Places that you can't afford to miss in Singapore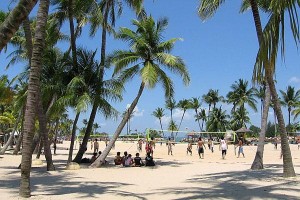 Besides Universal Studios, Madame Tussauds, there are lots to capture. The only coastal fort of Singapore lies near Siloso beach. This stands for historical evidence and there is a huge collection of memorabilia used in the 2nd world war. Jurong Bird Park at Jurong hill is something that one should never miss. The Singapore zoo is a marvel of the world and the night safari is to die for.
How to be at Siloso Beach
Getting into a taxi makes it easier to reach anywhere in Sentosa . This planned nation is well versed with tram, bus and mass rapid transit. To reach Sentosa you can avail cable car that will give an overview of city's skyline and get a view of Singapore best beaches. You can get the cable car from Harbourfront Tower II.