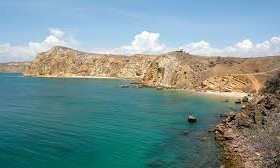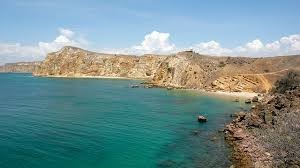 Praia da Caotinha beach is situated in Angola, a country in Central Africa. Praia da Caotinha is a much smaller beach, extending only 400 meters. It lies only 10 kilometers away from the city Centre.  Its terrain is a combination of sand as well as rocks. With very clear and calm water, it is recommended spot for those interested in fishing done underwater. With a name that is similar to Praia da Caotinha, Angola lies 26 kilometers from the city center with an even smaller area, hardly 150 meters, its seclusion makes it somewhat more private.  Praia da Caotinha is one of the top beaches in Angola.
Things to do: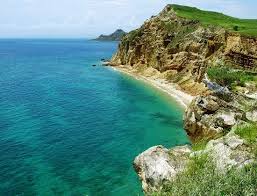 You can go for swim in the beautiful and clear waters. You can also take an experience ofPara sailing and scuba dive. To satisfy your hunger cravings you can end by eating at the restaurants located around and on the beach which serve delicious sea food as well as traditional food. You can tour cities like Luanda, Lobito and Benguela which are located around this beach.  You can also visit various other adjacent beaches.  You can also visit the Cachoeiras Waterfalls situated a few kilometers away from the beach. You can shop around at the local shops available near the beach.
Attractions:
Nothing feels as great as a barefoot walk along the side of the water while the sun sets. The dusk is something which you will never get bored of. It is never quite the same. Praia da Caotinha angola is one of the most beautiful places to see in Angola.  Fishing by the beach or along the riverside can be great fun and a different experience.  Several beautiful resorts and hotels are located near the beach which offers comfortable stay and a scenic view. The seafood here is fresh with a taste that will linger on your taste buds for a long time. It is one of Angola's best beaches.