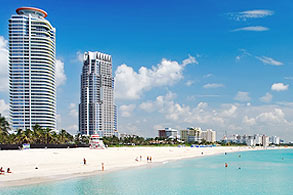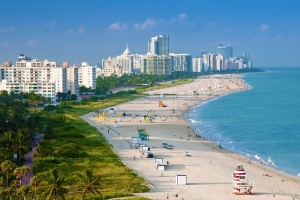 People looking for a great vacation spot need to look no further than Miami Beach. It has everything one could hope for and more. It combines the laid back beach town feel with urban glossiness and all modern amenities. Previously a winter wonderland for tourists, it has now graduated to being a tourist hotspot the entire year. It is still going strong and nobody who visits Miami Beach can go away dissatisfied. It is known for its hospitality and there is truly something for everybody. Be it water sports, adventure, relaxation, parties, great weather, shopping, food, one only has to name it to get it in Miami Beach.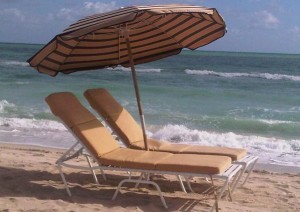 Miami Beach is located in Florida. For the tourists there are some really great staying options. One could choose between a boutique hotel, or a world class beach resort, or maybe cheaper hotels away from the beach but within easy communicable distance, the options are endless. For food, the options are endless and range from Michelin Star gourmet restaurants to beachside shacks. Wherever you go do not miss out on sampling some of the sea food known for its freshness. It is a true Miami Beach delicacy.
Miami Beach's most famous attraction however is its art deco historic district. It is a paradise for art deco lovers and houses fantastic Art Deco historic buildings with marvellous architecture which is bound to attract any lover of history and architecture. Speaking of architecture, Miami Beach has a very famous location to visit, that is, a garage named 1111 Lincoln Road. But you must be wondering isn't a parking garage a place to park your car while you visit important places. Well, this garage is an award winning architectural marvel celebrated by people here much like everything else in life.
This Beach also houses the opera and music lovers will find plenty of entertainment here. The New World Symphony is the most renowned space for music in this Beach. Housed in a Frank Gehry building, the Symphony provides both indoor and outdoor performance options and uses the best technology in sound. The art and culture scene is really vibrant and dynamic in this Beach and has some great events the year round. The nightlife is a speciality which attracts the young and old alike and anyone can have a blast in Miami. After a long night, a day at one of the world class spas spread out in this Beach will rejuvenate you from the inside. Or you could indulge in some retail therapy to freshen your soul as most of the big names in fashion have their shops in Miami. Miami is also a great place for sports enthusiasts.
Museums, farms, aquariums, zoos are fun places in Miami to visit with family. If not anything else, one could just take the little ones and head out to Miami's most prized attraction – the beach. The turquoise blue waters, clean sand and great views should be enjoyed by all. Building sand castles is one activity children love indulging in and there are special provisions for the same. Even safety is well taken care of with lifeguards scattered all around and lighthouses placed at regular intervals.