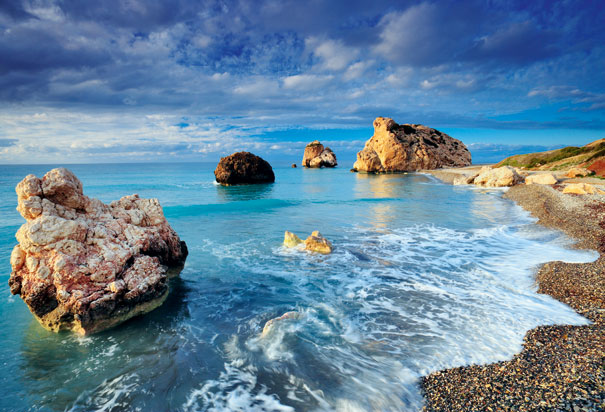 Beach Wedding Destinations
Weddings are one occasion that are carry almost the same value and involve similar emotions across nations, religions, castes and creeds. Though remarriages are common and easily accepted these days, no one really plans a second marriage or hopes for one to fail. There is always the desire and attempt to make a marriage ceremony really special and memorable, to make it different from the others in some way or the other. This is why, in the recent years, theme weddings and the choice of exotic locations for weddings is coming into the consideration of many around the world. One such concept is that of the beach wedding or wedding on the beach. Read on to find out some detailed ideas for beach weddings, including options for locations, décor, choices of menu and ideas for exclusive dresses. People often search for beach wedding destinations and we provide a compiled list below.
Locations for Beach Weddings
Though a lot of beaches are exotic locations for holidays, not all of them are the right places to hold a wedding. A lot of factors go into making a beach perfect for a beach theme wedding. These factors include permits, space or width of the beach, presence or absence of natural dangers such as quicksand, number of tourists found around the time which has been fixed for the wedding, weather, nature of sea at the beach, presence or absence of animals such as tortoises, crabs and more. Keeping these factors in mind, we have prepared a list of beach wedding destinations. The names are:
Seychelles-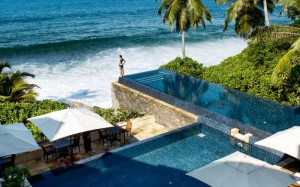 Naturally beautiful, Seychelles is among the top choices of all those who plan a beach wedding. Located in the Indian Ocean, the Seychelles is a total of 110 islands of which Praslin is the second largest and a perfect place for the most beautiful beach weddings. You can choose to keep your feet dipped in sand as you say 'I do' or opt for one of the many churches and organize a more formal wedding ceremony. It is one of your best options for beach wedding destinations.
Paphos, Cyprus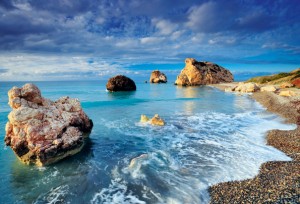 This particular island is often called the Island of Aphrodite, the goddess of love. Resorts here have their own chapel making it easy for couples to have a religious ceremony within an exotic locale in their beach themed wedding. It is among the private beach weddings spots in the world.
Clearwater Beach, Florida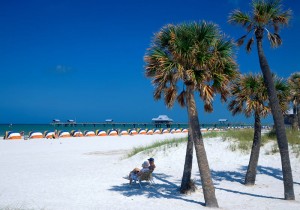 Most of Florida beach weddings take place at this particular beach which has so much to offer from breathtaking sunsets to pristine white beaches and sparkling water. There are also many resorts on the beach which make accommodation and fooding and other aspects of hosting guests easier as compared to a lot of other beaches, making it among perfect beach wedding destinations.
South Beach, Miami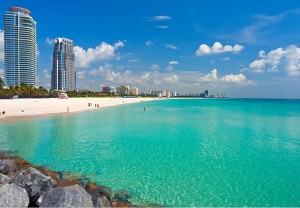 Options are plenty for holding Miami beach weddings, of which the South Beach is vastly popular. A famous location among tourists worldwide, the beach is usually crowded and it is best to choose an off-season or book one of the many resorts on the beach. That way, you will be able to access their private beach and have a wonderful wedding. This can be one of the best options if you are looking for the best beach wedding destinations.
Santa Maria, Italy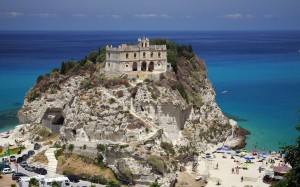 The beauty of the beaches of Italy is not unknown to anyone who is fond of reading on exotic beach locations and some are among the best beaches for weddings in the world. Located in Plastira near Naoussa, this is a great destination for beautiful beach weddings. Complete with a long coastline, view of the Naxos Islands, golden sand, sun beds and water sporting options, it will be a good choice for those who would like to have some fun post the ceremony or would like to have the option of indulging in activities for their guests. There are other beaches in Italy too which are among the world's top 10 beach wedding destinations.
Beach Wedding Ideas
Since the beach is itself the theme in beach weddings, it would be great if one could incorporate aspects of the beach within the usual structure of the wedding, seeking to make it a little different. Take a piece of paper and note down everything that comes to your mind when you think of a beach – say, sea-shells, fishes, starfishes, tortoises, sailors, palms, sarongs, sun beds, sea food, rocks and pebbles, sand, boats, diving so on and so forth. Destination beach weddings should ideally try to incorporate these aspects of the beach in the regular items of a wedding. Invitations should be redesigned, cakes should be ordered keeping in mind the locale, wedding dresses should be such – in fact, a touch of the beach's specialty should invade all aspects of the wedding at beach wedding destinations. Here are some useful tips you can keep in mind:
Instead of using a usual card, beach wedding invitations can be engraved on stones. A cheaper option would be to attach a sea-shell on the invitation card. Beach themed wedding invitations can also be on plain paper but cut out in the shape of star fishes or shells or boats.
Bouquets can have a starfish in them on the top of the flowers or the latter can be chucked altogether for a complete sea-shell bouquet. Boutonnières can also have a starfish or sea-shell in them.
An important aspect of planning a beach wedding is deciding on the dress. The long, trailing gowns might be difficult to handle on the sand and water. Beach style wedding dresses are better off being short for brides and if you are okay with experimenting, then shorts and shirt or t shirt for the groom.
Starfishes can also be added on chair slashes. The chairs must be beach chairs in order for them to look really cute. Flag buntings in coherence with the colour theme of the wedding can also look good.
As a part of your beach theme wedding decorations, make use of varied colours of sea-shells and string them together for creating table centrepieces or hanging them with the help of two posts at one corner.
Make use of pearls. Include them in the bride's jewellery, use fake pearls as table and other décors, and string them for foot jewellery for the bridesmaids. The bride's beach wedding dress can also have a slash of a string of pearls or a belt of pearls attached to it.
Use garlands of the flowers found in the locality to welcome all guests.
Keep a provision for men and women to open and store their shoes. You can also provide cheap sandals for wearing to the wedding destination at the beach.
 Beach theme wedding cakes can be of golden sand colour with white sugar starfishes or shells on them. The theme of white and blue can also be followed to create an effect of the ocean and waves. Sugar beach chairs can be included, apart from ropes, beach flowers, seagulls.
Also check the most romantic beaches across the world for honeymoon.