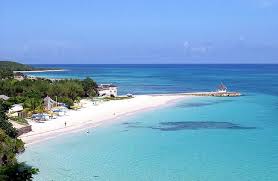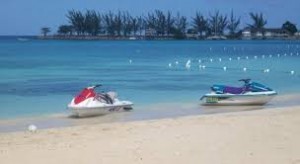 Ocho Rios is Spanish for "eight rivers" which is a misnomer because there aren't eight rivers in Ocho Rios! However there is the famous Dunn's River Falls, a popular tourist destination. Located on the northern coast of Jamaica, Ocho Rios was originally a fishing village which has developed in to a tourist spot with pretty beaches and parks. With increased expenditure in tourism, Ocho Rios beaches are among the top beaches in Jamaica.
Attractions in Ocho Rios, Jamaica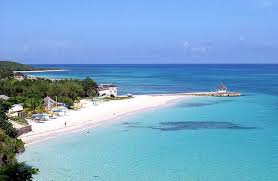 Famous for many things apart from the beaches in Ocho Rios, Jamaica, this top tourist place naturally at attracts various types of tourists. History buffs, adventure-seekers, shopping fanatics, art lovers, party animals, nature lovers, families as well as honeymoon couples wishing a nice quiet romantic vacation. Dolphin Cove, Island Village, Harmony Hall Art Gallery, Blue hole Waterfalls, Mystic Mountain amusement park, Cave valley, Coyaba Gardens, green Castle Estate Green Grotto caves, Seville heritage Park, Nine Mile (place of Bob Marley) are some of the famous stops for the tourists.
What are the things to do in Ocho Rios?
A simple weekend getaway is not enough to cover all of Ocho Rios and see and do everything. The city is peppered with gardens, museums and not to mention the beaches in Ocho Rios which beckon every tourist with its shimmering sands, clear waters, cool breeze and adventure sports to try out. Hiking, snorkeling, plantation tours, the Rainforest Zip Line at Mystic Mountain, river rafting, horseback riding, waterfall climbing, swimming, diving, surfing are some of the top activities here. After a day's worth of sightseeing, the tourists can go around shopping or eat at the multi-cuisine restaurants and finally retire to the nightclubs for a fun night with exotic drinks and Reggae music.