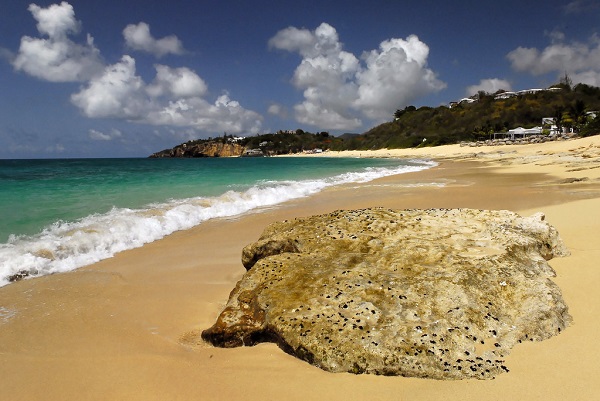 Baie Rouge Beach, also known as the Red Bay Beach is on the Las Terres Basses on the southwest coast. The shore is a large stretch of pinkish sand and calm warm waters making Baie Rouge one of the most beautiful beaches in the Caribbean. The Bird Cliffs are on one side of the beach and the other side is the location for Devil's Hole – a large hole in the cliffs filled with water. The beach is easily accessible by road and is safe for tourists. There may be an undertow and tourists must be careful about this while in the water. You can also opt to rent chairs and umbrellas there. The spot is perfect for snorkelling and you may want to bring your own gear. The beach has a calm and serene environment and is great for couples who are looking for a quiet relaxing time. There are multiple snack bars, restaurants and local vendors that supply food. The beach sees quite a crowd as it is near an urban area. There are parts where clothing is optional, and it becomes an adult beach. The Red Bay beach is an amazing honeymoon destination in the Caribbean.
Nearby Attractions
Maho beach is a popular location for tourists, along with others like Plum Bay. You can also take your partner to Seaside Nature Park for a quiet walk, hike or horseback ride. The Parotte Ville Bird Sanctuary is also a good place to see and interact with the intelligent birds. WISP-The waterpark, Old Street in Philipsburg and Fort Amsterdam are places that tourists frequent. The Grand Case and Oyster Pond are beautiful places where you can take your partner to spend some time. Paradise peak and Le Galion are excellent natural attractions to be explored.
Things to Do at Baie Rouge Beach
Take a rum tour with your partner, taste great liquor and have a blast. There are tour operators that can take you on Cultural tours through the island where you can see things and sample the cuisine. The beaches have paddling, sailing or speedboating as activities. Visit Rockland Estate with your partner, take a chairlift up onto the mountains. Enjoy the scenery and steal a kiss or two. There are walkways where you can stroll or simply go on the zip line. The Mangrove Eco tours that start from Galeon Beach. Soak in the quiet scenery with your partner and relax. The nightlife on the island is very good and you can dance the night away while having good rum drinks and tropical food.
The Red Bay beach is a slice of paradise and the surrounding areas have a good number of things to see and do. This beach is one of the most popular Saint Martin beaches in the Caribbean.