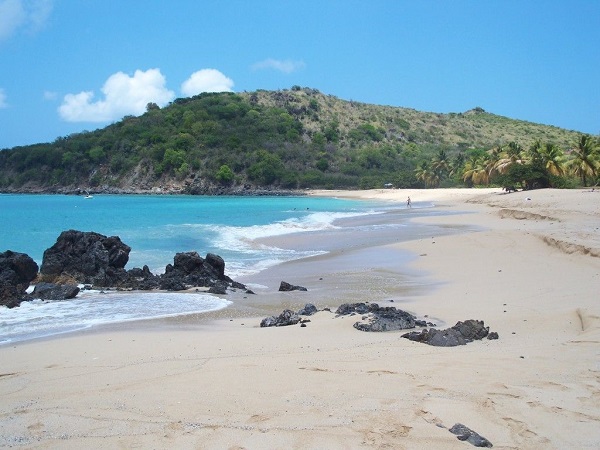 The Happy Bay beach lies on the northwestern part of the island, between Bay of Grand Case and Friars Bay. It is one of the most beautiful beaches in the Caribbean, known for its tropical climate. Surrounded by a hill on one side, it has a wide stretch of sand, green trees on the shore and turquoise waters. Happy Bay beach is one of the most romantic beaches in Saint Martin, as couples love the atmosphere and views. To get to the beach you may have to walk around 10-15 minutes from Friar's Bay, through a wooded area and a meadow. The beach is safe and frequented by locals. However, it is advisable to leave before dark as the beach is secluded and you must bring your own water bottles. This is an adult beach, which means that you will find topless or nude sunbathers. Couples must bring their food and drinks as there are no commercial sellers in the area.
Nearby Attractions
The Grand Case beach and Friar's Bay are nearby beaches. The towns of Marigot and Grand Case are also close to Happy Bay beach. Fort St. Louis, Rue de la Republique, Durat Bridge and tomb of François-Auguste Perrinon are popular attractions in Marigot. Harmony Nights and Atelier des Tropismes Gallery are well-known attractions in Grand Case. Apart from these tourists also frequent the Hope Estate Archaeological Site, National Nature Reserve of Saint Martin and Butterfly Farm.
Things to Do
Take your partner for a quiet picnic on Happy Bay beach and show some love on the secluded beach. You can also go snorkelling but be careful of the currents. The Friar's Beach has some great bars and restaurants that are sure to tickle your taste buds. Stroll hand in hand in hand with your partner through Marigot, while viewing the historical monuments and markets. Hike up to the Pic Paradis for spectacular vistas of the island and the surrounding waters. Go zip lining at the Loterie Farm or walk through the National Nature Reserve of Saint Martin.
Saint Martin like most Caribbean islands has lots of beaches with blue water and a sunny climate. But because of the atmosphere and offerings, it often is a good place for couples to relax in. The Happy Bay beach gives some privacy to couples and the sheer beauty of the surroundings makes it one of the most romantic beaches in the Caribbean.