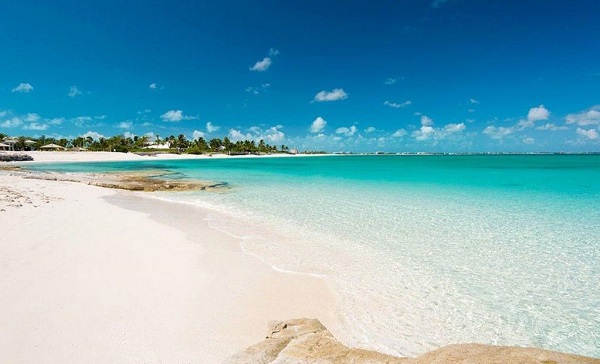 Located in Providenciales, on the northeast coast, Grace Bay is a world-renowned and one of the most beautiful beaches in Turks and Caicos. The beach has soft white sand, calm blue water and a barrier reef about 1.6 km away from the shore. The water is shallow, there are no lifeguards around and fishing and bonfires are not allowed on the beach. The beach is accessible by road, near the Provo sailing club. The dirt road near the club will lead you to the parking lot. The Grace Bay beach is in an active area and it sees a good amount of crowd, as it is a popular Turks and Caicos beach. However, the beach is long enough for couples to find their own spot and a little seclusion. There is a restaurant on the water as well as concession stands for food. Grace Bay beach is a popular destination for a romantic holiday in the Caribbean.
Nearby Attractions
Another beach near Grace Bay beach is the Turtle Cove beach which has a lesser number of visitors. The Caicos Heritage House is a popular tourist spot in the vicinity. See bits of history with your partner in the Cheshire Hall that dates to 1700 and the Wade's Green, a well-preserved plantation. There is a conch farm on the island that you can visit and learn about the mystical creatures. For thrill seekers, The Hole in Long Bay in Providenciales will prove to be a good visiting spot.
Things to Do at Grace Bay Beach
Grace Bay beach is well known for parasailing and the reef, a little away from the shore can be excellent for snorkeling. The coastal environment makes a good spot for kayaking or bird watching. There are other water activities like paddle boarding, jet skiing and sailing. You can take your partner for a romantic sunset cruise and you may get a chance to see glow worms if you visit during a full moon. You can rent a scooter and see the island on your own too. Couples must take a tour of the Turk's Head Brewery to see the making process and to taste some samples. Also, get your partner for a latest fashion trend shopping near by.
Grace Bay beach does enthral visitors with its beauty and at the same time is very active, giving off an almost party vibe. Nonetheless, it is one of the most romantic beaches in the Caribbean for couples as well as a beautiful honeymoon destination in the Caribbean.