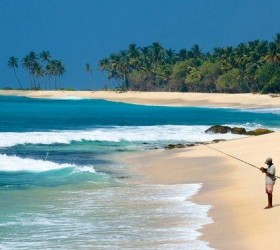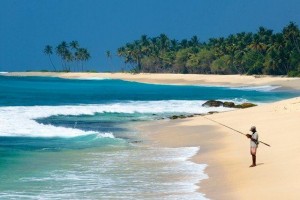 Leave the concrete hell unattended for some days and pack your bag to live a life in solitude. Sri Lankan nature has appealing greenery coupled with golden sand to seduce the travellers from any part of the world. Weligama town is in Matara district of Sri Lanka. It comes under the Southern province. The name Weligama itself suggests sandy bay. Like many other beaches in Colombo this too was equally affected in Tsunami but recovered rapidly as the economy of this land mostly depends on the tourists.
Places that you must visit at Weligama Beach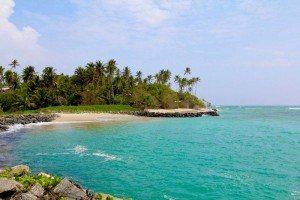 The unspoilt beautiful beaches in Sri Lanka are ideal to learn surf. The Weligama bay is not so windy and cool breeze gives comfort in the evening. Check the sunrise and sunset from the deserted beach. There are many places of historical importance to visit in bay beach Weligama. Avalokiteshvara statue carved into rock is the representative of a king with leprosy. The story is that that the king got a vision to take coconut pulp to cure his leprosy. When he was cured he marked this miracle by curving this sculpture. This place is known for handicrafts. The Portuguese introduced lace-making in this area and they are keeping the tradition alive. Taprobane Island just opposite to the wellington village is a rocky private island and centre of attraction for tourists who come to explore the Weligama Bay Beach. You can make your way to this magnificent island by paddling through the surf on foot. Elephant ride is also popular and accessible in this zone. Coastal village and uninhabited beaches give an entry to the island of serendipity. Hikkaduwa beach, located in the southern province is wonderful place to visit for the water sport lovers. Under water diving and Snorkeling in Hikkaduwa have made this beach so popular. There are diving schools and instructors are there to guide you. The magnificent view of coral reefs and colourful fishes is unforgettable.
How to reach Weligama Beach
Most people land up at the international airport which is nearly 30 minutes from the north of the capital city. One day is enough to spend in Colombo for sightseeing, shopping and to taste exclusive Sri Lankan cuisine. The easiest and safest option to be at Weligama is by taking a car on rent. You can avail train. Both the route is passing through the large coconut plantations.