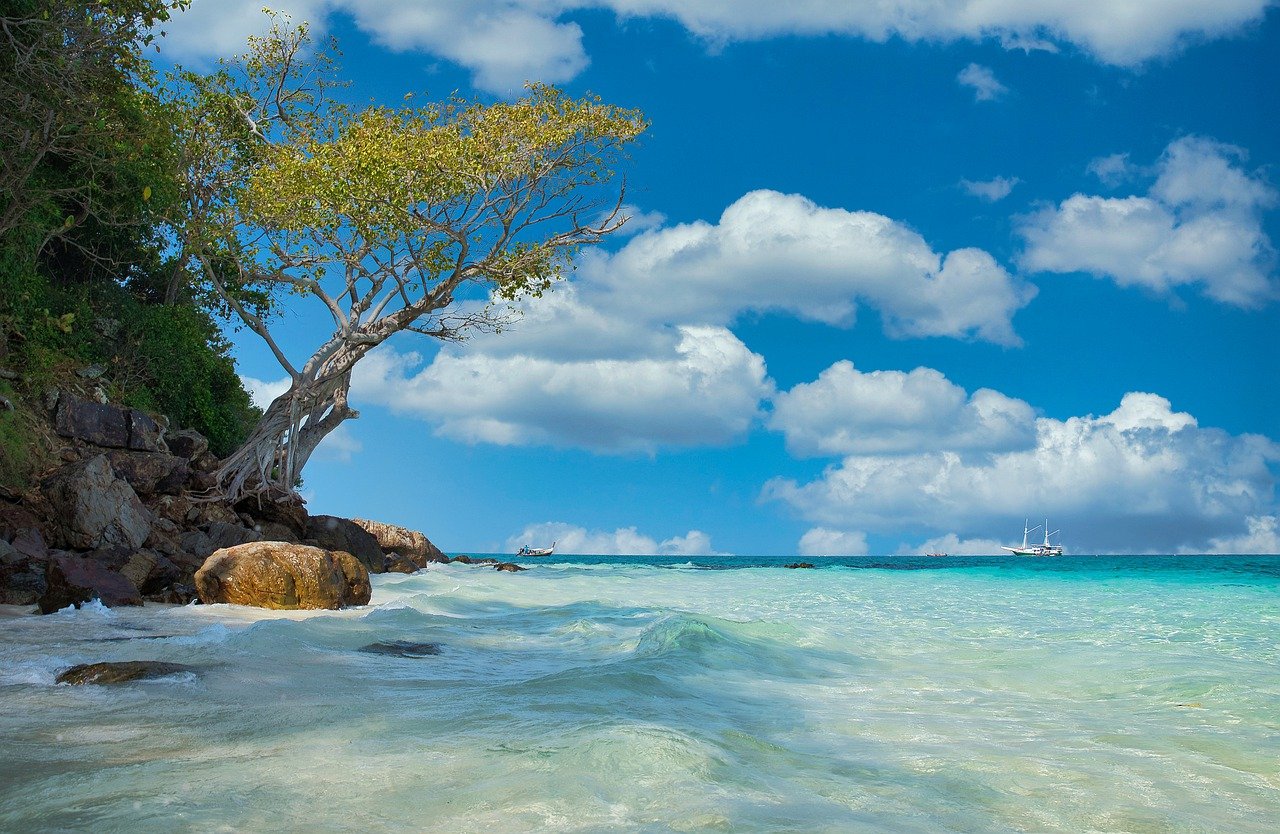 Most Romantic Places in Thailand
Most couples travel to exotic, scenic places for their honeymoon. Sandy beaches with crystal clear waters are favored to relax and enjoy some time together. Couples can lie in the sun on the beach and just relax while the waves roll in with a cool breeze. Thailand is known for its tropical environment, beautiful beaches, and pleasant climate. Some of the most Romantic Places in Thailand for your honeymoon is listed below. Your partner is sure to be delighted when you take them away to such beautiful places to try local delicacies and experience the culture of this beautiful country.
Krabi
Krabi is known for its lovely beaches and coral reefs. Couples can go coral diving to see the flourishing reefs and also explore the sea caves in the area. The hot springs can be counted as couple only places in Thailand since they are frequented by honeymooners to enjoy some privacy. Other attractions in Krabi are the limestone cliffs, frequented by rock climbers from around the globe, as well as the national parks with animals native to Thailand. Couples can also go on boat trips to nearby islands and isolated beaches from Ao Nang. Shopping at Maharaj Walking Street on the weekends (5pm to 10pm) and at the Night Market at Chao Fah Pier (5pm to 12:30am) would be perfect to buy souvenirs to remember the trip.
Ko Samui
Ko Samui is also known as a paradise in the Gulf of Thailand. It has several beautiful off-white beaches like Hat Na Tian, Hat Lamai, Hat Chaweng, and Hat Taling Ngam. One can enjoy long walks along the spectacular coastline whose beauty is enhanced by the crystal-clear sea on one side and tall coconut trees on the other. The place has a peculiar tourist spot called Hin Ta Hin Yai, in Ao Lamai, which is a natural phenomenon.
It was formed due to the erosion of granite by seawater. The rock formations look like female and male genitalia and many tourists click pictures with them. Fresh Seafood and Kalamae, a soft and sweet candy, are special delicacies that every tourist must try in Ko Samui. Special activities such as water therapy by the use of mineral or hot water, botanical therapy by the use of natural aromas, and massage therapy make Ko Samui one of the most special honeymoon places in Thailand. 
Ko Samet
Ko Samet is a preferred camping spot for locals as well as tourists because it is easily accessible from Bangkok. It is fun and crowded on weekends but great for relaxing on weekdays. It is a spectacular island with fine white sand and pleasant weather throughout the year. The east coast has better developed beaches but it is recommended for couples to book rooms in the fancier resorts on the west coast as they can enjoy more scenic beauty together and relax together while watching the setting sun in the evening. This makes Koh Samet one of the best honeymoon places in Thailand
Phuket
Phuket is the largest island of Thailand on the Andaman Sea and is located in the southern part. It is surrounded by exquisite beaches such as Mai Khao, Kata Noi, Kata Yai, Kamala, Karon, Rawai, and Patong. The viewpoint known as Laem Phromthep features the most beautiful sunsets in the country and this makes it one of the most romantic places in Thailand for couples.
The Chinese Vegetarian Festival is something each couple must experience and there are several Chinese restaurants and shrines that can be seen while in Phuket. The Night Shows in Phuket province are one of the major reasons that it is a tourist hotspot.
Koh Lanta
Koh Lanta is the preferred beach in Thailand for tourists that want to go scuba diving or snorkeling and considered one of the most romantic places in Thailand. It has beautiful beaches with fine golden sand, mangroves, forests on the hills and stunning waterfalls. It is a secluded area that is ideal for couples that wish to visit it for a romantic trip during their honeymoon. Since Koh Lanta is away from the mainland, its natural beauty has been preserved to a greater extent. Tourists can reach there via boat or ferry. Couples can also rent motorbikes to drive around and explore.
Bangkok
Bangkok is the most popular city that tourists throng to in Thailand. It has many activities for couples who enjoy exploring new places together. Couples can visit religious and historical sites with exquisite architecture and wall paintings. They can walk around the palaces and museums in Bangkok. This city also has plenty of parks where couples can have picnics. Just like any other modern city, Bangkok also has multiple shopping centers with properly developed department stores as well as night markets. Couples can enjoy the local culture and try native dishes here. Another special place that tourists can visit in Bangkok is Madame Tussaud's for the immaculately carved wax figures of famous personalities.
Ko Phi Phi
Ko Phi Phi also called Phi Phi Islands, is known for its nightlife and is one of the most romantic places in Thailand. It has many beach bars and restaurants for couples to spend their time together after a fun day at the beach. Smaller beaches around the island are recommended for couples since they are more secluded and provide more privacy. Maya bay at Ko Phi Phi affords a stunning view for visitors with its clear waters and tall limestone cliffs. Snorkeling at Ko Phi Phi allows one to view exotic marine life. Divers can also see some docile leopard sharks in the waters.
Koh Chang
Koh Chang is the second-largest island that one can visit in Thailand. It is also known as the Elephant Island. The majority of this island is covered in rainforests that are inhabited by native wildlife. The National Park that includes smaller nearby islands is ideal for jungle-hiking and camping. Snorkeling and diving are also frequently done by tourists that visit Koh Chang. The gorgeous beaches and serene rainforests make this island a favorite among couples that seek adventure.
The choice of honeymoon destinations in Thailand makes it the perfect choice for couples that want to try an exotic location for their honeymoon.