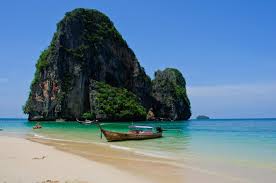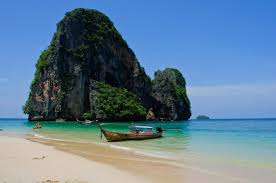 Nothing can be more appealing and soothing than Beaches. Thailand has gained its popularity with its natural and man-made development which turned out as the main attractions. People around the world plan their Thailand trip for so many reasons. One of the main reasons is the beaches in Thailand. It is a tropical paradise for the travelers who find beauty in the nature.
What Railay beach has to offer?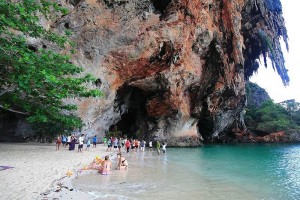 Railay is a peninsula comprises of east Railay, west Railay, Phra Nang and Ton Sai. Its relaxing atmosphere allures the tourists to take a halt at Railay Beach Thailand. This exclusive beach is cut off from Krabi mainland by limestone cliffs. It is all about sea, jungle, cliff and rock.  This is an ideal adobe for those who always look for adventure. Railay bay is relatively less happening than Phuket. Boats arrive from Krabi to east Railay beach which is used as a docking point. This part is known for mangrove. The available bars, restaurants and resorts are less expensive than the west Railay ones. Beach lovers stop at west Railay beach. This beach is flanked by cliff from both sides.  Phra Nang beach mesmerises us with its fascinating view. The broad silvery beach lacks pollution and noise. You will get to see religious cave shrines where local people come to invoke during their hard times. Cosy bars and resorts, bungalows at affordable price are available in Railay Thailand.
What to do there?
Apart from lying down on the beaches you can try rock climbing for which this is famous. Jungle safari, kayaking, snorkelling, water rafting can also be tried if you are passionate about water sports and other activities.
How to get there?
To reach Krabi Railay take a flight heading to that place. It makes the journey easy and comfortable.  If you are in Thailand hire a longtail boats to Ao Nang which is close to Railey beach.Ferry service is frequent between Ko Phi Phi and Railay Beach Krabi. From Phuket you can connect with the west beach.