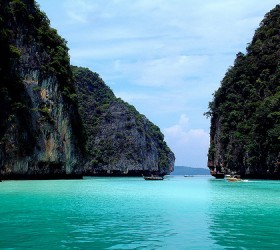 Thailand has become a hot spot for tourists around the world. One of the reasons of its growing popularity lies in its beautiful nature. The trip is less expensive but covers land, sea, beach and hill which are rare in the same land.
Thailand has lots to offer that you can't even witness completely in your first attempt. The best islands in thailand, are another exciting spot for the travellers who drop down at Phuket. Being located between Phuket and Malacca coast this part is under Krabi province. The largest island among the Phi Phi islands is unarguably Ko Phi Phi Don often counted as one of the best islands in Thailand. The other islands in this loop are KohBidaNok and Bamboo Island. There is nothing but limestone rocks to block your way. Ko Phi PhiLeh the most visited Island in Koh Phi Phi got the recognition when it was shown in a film called 'The Beach'.
How to enjoy at Phi Phi islands  
       
Phi Phi islands are complete hideaway from our bustling life. Phi Phi Islands are known for white sandy beach where you can find peace. This is the perfect spot for snorkelling when you are passing through the coral reefs at Laem Tong. Hire a long-tail boat to experience a majestic journey in the beautiful islands in the world.At Phi Phi islands don't miss the view of caves, hot spring, undulating forests and coastal connection of the NoppharatThara Beach National Park. To get the local delicacy take a halt at Ton Sai. The beach offers less expensive accommodation with its spectacular view. Thailand best beaches have always contributed in raising the Thailand Tourism.
How to reach the Phi Phi Islands
The Tsunami affected area is still under reconstruction.  If you land up in Phuket it will connect you to the Phi Phi island through its prompt ferry service. From Krabi you can also depend on long-tail boat to reach your destination.Phi Phi island are one of the must visit destinations.