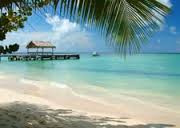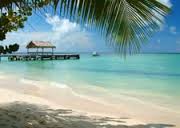 Trinidad and Tobago is a twin island country off the northern coast of South American continent in the Caribbean waters and houses the most beautiful beaches in the area. Trinidad and Tobago beaches have attained international recognition because of their white-gold sand and the clear blue waters lined with coconut and palm trees. These islands have it all ranging from mountains, tropical forests and beaches, thus making them a highly coveted summer destination for people all over the world. The Pigeon Point beach in Tobago is often considered among the best beaches in Trinidad and Tobago.
Things to see at Pigeon Point, Tobago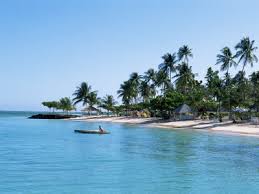 The Pigeon Point is also called pigeon Point Heritage Park. The famous thatch-roofed jetty has become the trademark of Tobago. The beach is long and flat with plenty of shady trees around to relax. The beach itself is equipped with modern facilities like washrooms, showers, changing rooms, beach chair rentals, bars and a restaurant. The lighthouse complex, the jetty and the beach itself makes the entire area picture-perfect. Sunsets are breathtaking to watch as the sparkling blue waters turn blood red before darkness descends completely on the beach. It is an excellent spot to take lots of pictures but witnessing it is much more satisfactory!
What to do in Pigeon Point beach?
There is a shop which sells as well as rents out water-sports gear. The beach is a great place for diving, kayaking, kite boarding, surfing, stand up paddle boarding, etc. Almost all of Tobago and Trinidad beaches have these water sports owing to the mild swells and gentle breeze. During the months from September to November, the weather takes a cool turn with stronger winds which are perfect for trying out the sports. In the summer months when the waves are moderate, fishing is a popular activity around here. Land based activities include golf, bird watching, horseback riding, turtle watching, crab and goad races, which are indigenous to this charming country. For such attractions, activities, diverse scenery the beach is regarded among the best beaches in Tobago and the best beaches in Trinidad taken together!