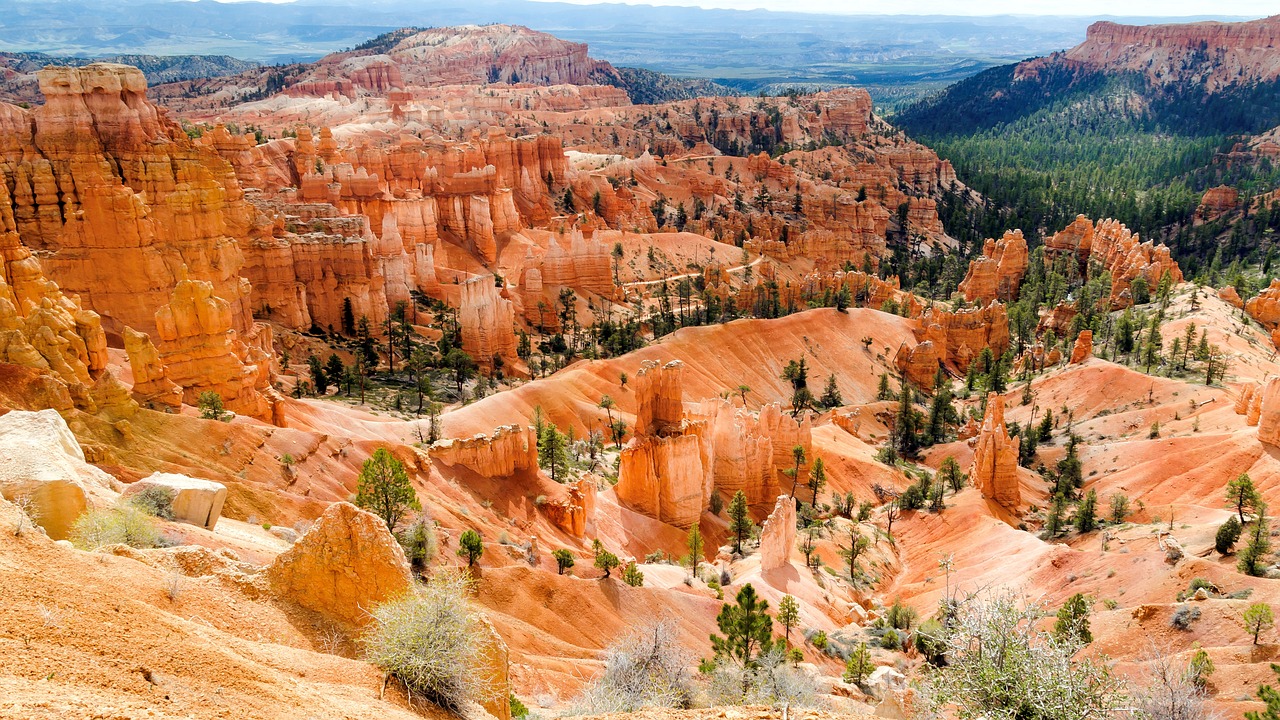 7 Must See Places In Utah
The American state of Utah is well-known for its spectacular topography, mountains, deserts, and high plateaus packed into several national parks. The state's natural landmarks are its main draw, but it also has several urban attractions in metropolitan areas. It has always been one of the most well-liked places to travel to and explore because of its breathtaking scenery and wide variety of outdoor activities. If you're planning a drive through the state or a trip to a specific part, here are a few must see places in Utah you shouldn't miss:
St. George
This southwest region of Utah, located below the Great Basin's rim, is a warm-weather getaway and home to lovely landscapes and recreational sites for most people. St. George has something for travelers of all ages and interests.
You can enjoy a wholesome time at places like St. George Dinosaur Discovery Site, Pioneer Museum, City Art Museum, and Rosenbruch Wildlife Museum to learn about the place. There are also several national parks nearby that are popular spots for trekking, biking, sightseeing, and pictures, including Snow Canyon State Park, Moe's Valley, Zion National Park, and Bryce Canyon Park.
If you're traveling with friends and family, look up and book St. George condo rentals to make the most of your trip. These accommodations offer amenities to make your vacation even more enjoyable.
Dead Horse Point State Park
This park gets its name from a fascinating legend. A herd of horses was abandoned near the Colorado River's neck without food before succumbing to the harsh desert climate. Rumor has it their ghosts still linger in the area.
This natural wonder rises 2,000 feet above the Colorado River and offers a spectacular view of Canyonlands' carved hills. Travelers can see Moab, the La Sal Mountains to the south, and the Colorado River. It's also worth mentioning that the park has pet-friendly hiking trails for bringing your furry friend along with you on your trip. If you're into biking, the new Intrepid Trail System at Dead Horse Point should be on your to-do list.
Moab
Another of the must see places in Utah is Moab. The city's main draws are the famed red rock formations in the Arches National Park and the stunning La Sal Mountain range. You can also find dinosaur tracks at the Bull Canyon Overlook. In the city, the Museum of Moab houses dinosaur bones and archaeological artifacts
You can engage in just about any outdoor activity you can think of. Among the activities available are mountain biking, hiking, rafting, off-road trips, horse riding, national park tours, scenic flights, and more.
Park City
This historic mining town is located in the shadow of the untamed Wasatch Mountain Range, wedged between Deer Valley and Park City Mountain.
Park City's three claims to fame are the Sundance Film Festival, skiing, and snowboarding. It's a winter wonderland amid Utah's otherwise dry and rocky landscape. This popular tourist destination is 35 miles southeast of Salt Lake City and has a wide variety of lodging options that draw large numbers of tourists throughout the winter.
The Park City Mountain ski area is probably the largest skiing spot in the US, with expansive snow-filled terrain with award-winning dining and family-friendly winter activities. It also houses one of the best ski schools in the world.
Goblin Valley State Park
Goblin Valley State Park is a unique location along the San Rafael Reef. It is known for its captivating geography that can perplex your imagination. The park features thousands of mushroom-shaped rock pinnacles, also known as hoodoos, originally formed in the dinosaur era. Locals call these hoodoos goblins, hence the park's name. Fun fact: Star Wars has also been filmed here.
Visitors can camp amidst the nooks and gnomes while being awestruck by the geology. The park is also a hiker's paradise. You can trek The Tree Sisters, Entrada Canyon, Curtis Bench trail, and the Carmel Canyon Loop. Be sure to take plenty of pictures since the backdrop makes for some excellent otherworldly visuals.
Salt Lake City
Salt Lake City is the capital of Utah and one of the must see places in Utah. It is a vibrant city that offers a mix of several mountain-based and skiing activities, as well as religious attractions.
Salt Lake City is considered the capital of the Church of Jesus Christ of Latter-day Saints. This has influenced the social and cultural life of the people in a major portion of Utah and parts of Idaho, Nevada, and Wyoming that border the state. Expect to see Mormon-style architecture throughout the city.
Besides religious attractions, you can also find excellent dining, shopping, and a wide range of activities here. Be sure to check out the Bonneville Salt Flats, Eccles Theater, Great Salt Lake, Hogle Zoo, Natural History Museum of Utah, Red Butte Garden, and Temple Square.
Many of Utah's top ski resorts are within an hour's drive of Salt Lake City. So if you're planning a winter trip for some skiing, be sure to add this historic city to your itinerary.
Monument Valley
Monument Valley is in southeastern Utah and is home to massive sandstone rock formations that rise 400 to 1,000 feet above the valley floor. It truly is a natural marvel when viewed with the neighboring mesas, buttes, and desert landscape.
You can camp in Monument Valley at night for stargazing and experience The Milky Way in all its glamor. You can also take your private vehicle on the 17-mile scenic drive or arrange a jeep excursion with a local guide to explore the backroads and historic sites in the region. The Yei-bi-chai, Mitten Buttes, North Window, Three Sisters, and the famed Totem Pole – a thin, 500-foot-tall pole that rises over the surrounding dunes – are just a few of the prominent landmarks to sot along your drive
Conclusion
From Mormon culture and history, sleek downtown areas, and natural formations that seem out of this world, Utah has plenty to offer for avid tourists and explorers. Whether you want to get rid of some stress by going sightseeing or indulge in extreme adventure sports, there's plenty of stuff to do. So pick a spot or two, pack your backs and go!