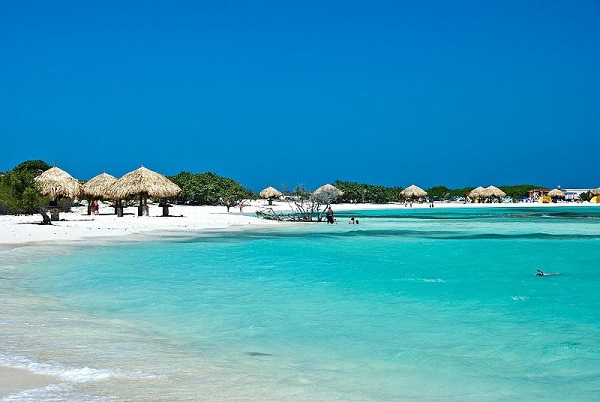 Baby Beach – Beaches in Aruba
Located on the southeast coast of Aruba, Baby Beach is one of the most popular beaches in Aruba. Located near San Nicolas, it is only at a 45-minute distance from Palm Beach Hotels. Also known as Klein Lagoen, it has a shallow and warm bay which is sheltered by a man made break-water.  The bay is sheltered from rough seas, making it great for children and those preferring a calm beach.  The water is clean and clear with a light blue shade. Near the shore, the water is only waist deep but then it deepens towards the inlet.
Families or couples can come here to sunbathe or snorkel. Relax on the white sand and apply loads of sunblock to protect your skin from the hot sun. In the 1950s there was a club built here but today there is only an abandoned building.
However, you can still find spectacular ocean views on this slice of paradise. The half-moon shaped sandy beach is great for swimmers too making it one of the best beaches in North America. There is plenty of marine life including parrotfish, squid, blowfish, eels, angelfish, barracuda and other small fish. The water is clear and you can spot fishes if you are lucky.
The beach is accessible by car, taxi or bus and there aren't any accommodations nearby. The beach isn't for nudists and in fact, public nudity is not legal in Aruba. There are some topless beaches where one can swim and sunbathe, but Baby Beach isn't one of them.
The half-moon sandy beach has refreshment stands for barbeques, platters and hotdogs. The seafood platter is great for those who get a big appetite after relaxing in the sun. You can even share it with your partner. There are huts under which you can get respite from the sun. Snorkel gear, beach beds and windscreens are available on rent too.
The beach offers the comfort of a shallow pool with sand and the sun. You and your partner will love spending time here. Plus, it isn't as crowded as the beaches near the resort areas. The beach is popular with locals and visitors alike making it one of the most popular beaches in Aruba.