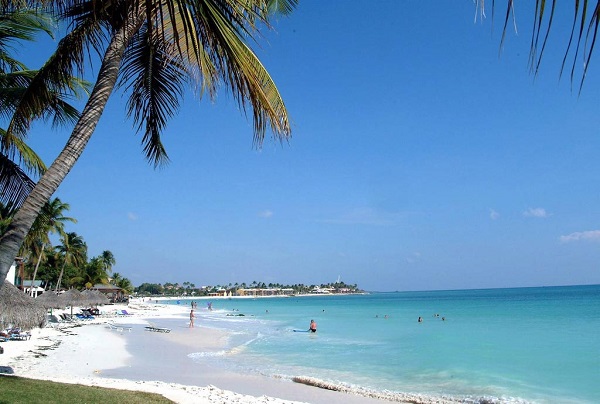 Eagle Beach – Beaches in Aruba
Eagle Beach can be found in Oranjestad, south of the Palm Beach. The area is known for public beaches and low-rise resorts. This is one of the most beautiful beaches in Aruba and has received the TripAdvisor Travellers' Choice Award in 2019. It stood at 3rd place! The beach is quite wide and has a long coast of white sand.
"Magnificent" is what the visitors have called the beach as it has the whitest sand and the bluest water.  It is one of the default shores and the probability is you are probably staying in a hotel nearby. If you are looking to just laze in the sun or swim with your partner, then this one is for you.
Fun fact – it has two of the most photographed fofoti trees in the country that has its silhouette pointing to the Caribbean. During Easter week the locals camp at this beach every year. Aruba has four turtle species that nest on its shores and most nests can be found on this beach as well. You can also find a lot of home decoration items near by shops.
The beach does have parking facilities and small shacks from where you can get snacks. You can also rent watersports equipment from your hotel or book a sunset cruise on a catamaran with your partner. The cruise will give you some private romantic moments with your partner. Eagle Beach is truly one of the best beaches in North America and the award highlights it.
The beach is accessible all of 24 hours and has free entry. Although there could be high winds at certain times, so you are also advised to take a hat to cover your face from the flying sand. You and your partner can simply lie under a cabana and chill gazing out at the endless blue ocean and blue clouds. It is what you would call an ideal Caribbean beach.