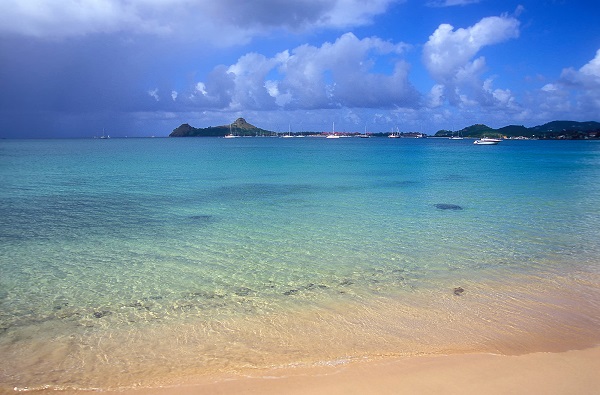 Reduit beach – Saint Lucia
Imagine a quiet place with miles of sand and clear blue water. The warm sand bakes your skin and the waves' gentle lapping lulls you into a blissful reverie. This is exactly what Reduit Beach offers you making it one of the most beautiful beaches in North America. On a good day, you will find clear blue skies, with white clouds floating above as the water invites you to take a refreshing dip.
Pronounced red-wee, the long sandy stretch surrounds the Rodney Bay. It is adjacent to the marina and is 6 kilometres away from the capital Castries. The beach is situated on the outskirts of the Gros Islet, on the western side of the Northern Edge. Castries-Gros Islet highway could be the access path to there. The beach offers 5 miles of soft sands and turquoise waters for visitors to relax on.
Amenities on the beach
The beach has multiple hotels and resorts with beachfront properties as well. If you are hungry, then there are cafes and restaurants lining the area where you can grab a sumptuous meal to fill your belly. Creole, Chinese, Thai or Indian, you can eat at any of these restaurants. It is very popular with cruise ship tourists who can chill here when their ship docks here. The beach is very easily accessible by shuttle and taxi.
Why is it attractive?
You can get a good view of the beautiful green peaks of the Pigeon Island National Park. It is reasonably close to the capital and easily accessible. It has an excellent night life and gets lively after dark as well. Beautiful sunset views and late-night bars attract visitors with drinks, live music and karaoke. You can relax and unwind during the day and party during the night. There is nothing like a good party on the beach.
Things to do at Reduit Beach
Reduit beach has a lot of activities for visitors. Relax and get your sore muscles stretched at one of the spas in the nearby resorts. The masseuse will ensure that all the knots will be let loose and you completely relax. There are a lot of exciting watersport activities and that is why it is one of the best beaches in North America. You can rent snorkelling equipment and jet skis to enjoy the water. Water skiing, windsurfing and scuba diving are also great in the protected bay. There is a water park too if that is something you want to try.  The Castries market is located nearby and you can stroll along the colourful lanes. A rum distillery is also close and you could take a tour to sample some delicious alcohol.
Reduit is a lovely place to hang out and chill by the water. Be it couples or families, you will love the activities and views at this place.