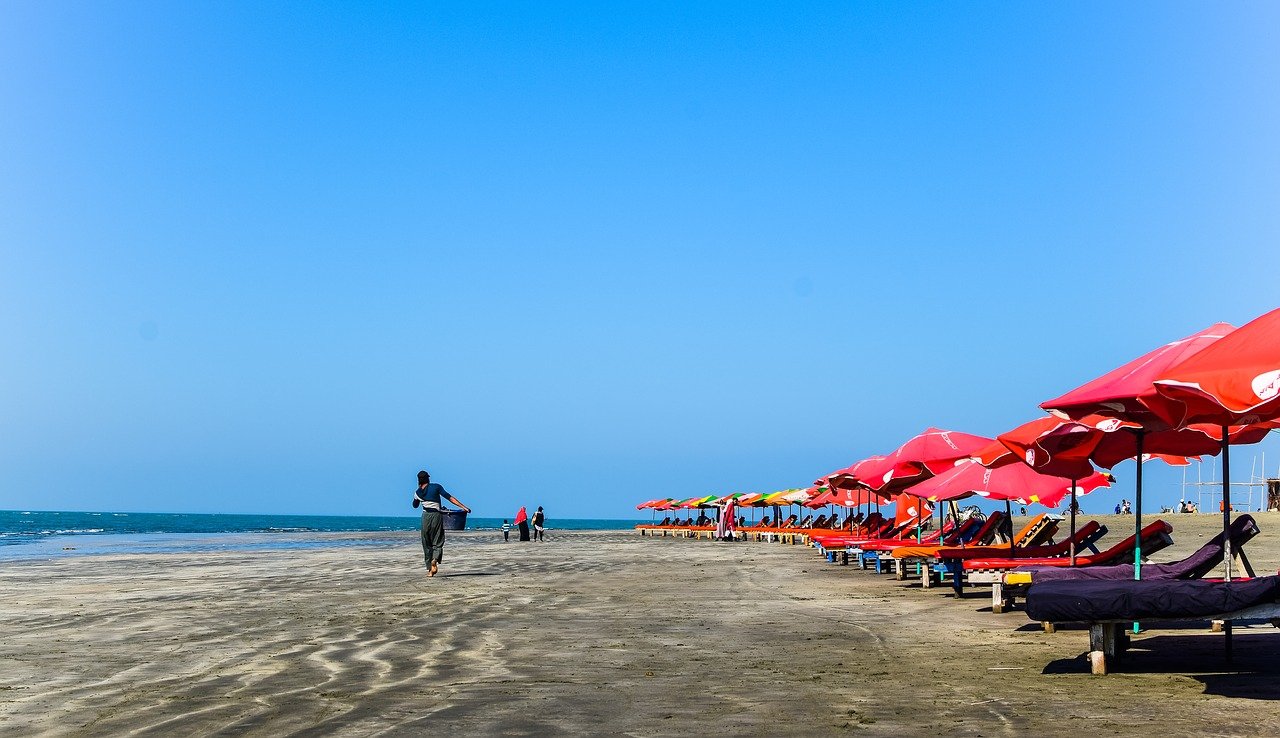 Best Beaches in Bangladesh for a family vacation
Bangladesh is a country in South Asia that shares its borders with India and Myanmar and is a place that is filled with natural beauty. It is covered with lush greenery and interrupted by rivers that create fertile plains and empty into the Bay of Bengal. The southern part of the country is covered by mangrove forests that is home to the Bengal Tiger, Bangladesh has a stunning coastline that is dotted with some great beaches that make an ideal vacation destination. If you're planning a beach vacation then here are some of the best beaches in Bangladesh that are worth a visit.
Cox's Bazaar Sea Beach
One cannot begin to list the beaches in Bangladesh with naming the Cox's Bazaar beach. It is the largest sea beach in the world and witnesses thousands of tourists each year. Located in the Cox's Bazaar district in the Chittagong divisions, the Cox Bazaar beach is full of natural beauty with a sandy coastline that stretched for 120 kms. The Cox's Bazaar Sea beach is almost always crowded with people having a good time on this tropical getaway. The surrounding hotels and resorts are famous for their hospitality and fresh seafood.
St. Martins Beach
Around 120 kms away from the Cox Bazaar district and 9 kms south of the Cox Bazaar Beach is the St Martin Island which a popular tourist destination having one of the best beaches in Bangladesh. It is a small island of 17 square kilometres and is the only coral reef island in Bangladesh that boasts of white sandy beaches and bright blue waters. In the local language it is referred to as "Narikel Zinzira" which literally translates in to Coconut Island because it is filled with rows of coconut trees. The only way to reach this island is via a boat from Cox Bazaar or Teknaf. Once you've reaches, you can board at the local resort and indulge in water sports and beach parties.
Inani Beach
One of the most beautiful beaches in Bangladesh is the Inani Beach which is known for its crystal clear waters and shimmering sandy shores against the backdrop of the beautiful green Himachari Hills. The waters hide the black green coral stones which are only visible during low tides. This beach is not very crowded and you can visit this beach from anywhere in Bangladesh by taking a cheap domestic air ticket Bangladesh and boarding in a nearby hotel and resort. Do not forget to witness the sunset by this beach which is absolutely stunning.
Sonadia Island
The Sonadia Island beach is stunning to say the least. This island is located just off the coast of Cox Bazaar beach and is just 9 square kilometres in area. A short boat ride from Cox Bazaar will land you in Sonadia which is an ideal place to camp. This islands attracts a lot of sea birds and marine animals and is therefore rich in biodiversity and is ideal for bird watching. If you want to steer away from the crowd at Cox Bazaar then head to this island to enjoy some quiet amidst the soft sound of the waves.
Shamlapur Beach
If you are looking for a peaceful beach side in Bangladesh then the Shamlapur beach is a must visit for you. About 2 hours' drive from Cox Bazaar, the Shamlapur beach is a secluded beach which is only frequented by fishermen from the local villages. It is the perfect spot for couples looking for a relaxing time. You can enjoy the sun, sand and the waters on this beach while also witnessing the local life of the fishermen who pull the trawlers at sunset. If you are lucky you will also spot sea birds, seagulls and crabs on the shore.