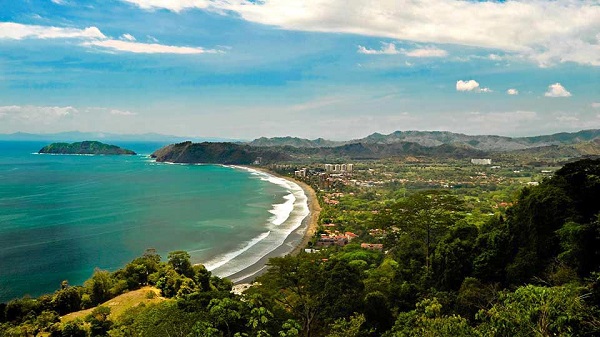 5 Best Beaches of Costa Rica for an Adventurous Trip
Costa Rica, meaning the rich coast, is a Central American country with beaches, volcanoes and exotic forests. You have so much to see in this place and it mesmerises you with its beauty. The friendly people, amazing food, warm climate and diversity can make your vacation very exciting. The best beaches of Costa Rica offer an unparalleled experience in terms of fun and excitement. Here are 5 beaches that allow for an adventurous trip to Costa Rica.
Manuel Antonio
The Manuel Antonio beach is located within a national park, so you get lots of nature and seclusion. Miles of palm trees, white sands and clear water welcomes you.  There is a lot of adventure and wildlife around here. It is a gentle beach, good for swimming and learning to surf. There are areas nearby where you can go sport fishing as well. Costa Rica is really popular for surfing and there are lessons for that as well in Manuel Antonio. It is one of the best beaches to visit in Costa Rica as you can have a trip to the nearby national park as well.
Tamarindo
Tamarindo is one of the most easily accessible beaches in Costa Rica. It has a multitude of outdoor activities for visitors to enjoy. The Tamarindo surf is quite popular among locals and tourists. This is because the area is quite windy and makes for excellent waves. Surfing is an engaging water sport that you can undertake in Tamarindo and it is excellent for experienced and novice surfers. You can also go sailing, swimming, snorkelling, kayaking or sport fishing. There is a beach nearby, which are nesting grounds for leatherback turtles. If you visit during the right season you may get to see the babies come out of the sand and run towards the ocean. Tamarindo has plenty of hotels, shops and cafes. You can easily find delicious meals as you lie down and chill out in the sun or take lessons for surfing.
Playa Hermosa
Playa Hermosa is a great place for a beach vacation. It lies in the Guanacaste province and has a lot of beach activities for everyone. The beach is a cove with fig and palm trees for shade. It has been a good retirement spot for many Americans so you will see a big expatriate population. The beach is large and spacious with calm waters. Visitors can either chill on the beach or do any of the following activities. Surf trips to popular surfing points like Witch's Rock, snorkelling, sailing, scuba diving or sport fishing.Kayaking, banana boat rides or paddle boarding are also things you can undertake. Beach massage is available for tired bodies after a fun-filled day too. You can also go for other activities like ziplining and horseback riding or get on a catamaran for a sunset cruise.
Jaco
Jaco beach is a black sand beach which is also a popular surfing spot. It is one of the best beaches of Costa Rica. It is only an hour away from Manuel Antonio beach. It has rolling hills and rocky points at the ends. Jaco is a developed beach town and has plenty of options for food and accommodation. It is a well-known surfing spot, like most of Costa Rican beaches. Deep-sea fishing, kayaking and boat rides are activities you can take up on the beach. Sportfishing and catamaran tours are cool options too if you want to stay above water and still enjoy the ocean. Take a paddle board or a canoe out to enjoy the open seas. Jaco has a host of bars and a colourful nightlife as well.
Flamingo Beach
One of the popular Costa Rica Beaches, it has a lot of lush vegetation, lagoons, clear waters and white sands. It has a good variety of marine life and multiple secluded parts. It is home to the giant pacific manta and if you want to see these majestic creatures, then go snorkelling or scuba diving. You can drive or take a shuttle to get here. The name "flamingo" is given because under certain weather conditions, the sand becomes pink in colour. Deep-sea fishing for rooster fish, groupers or marlins are available and of course snorkelling and scuba diving too.