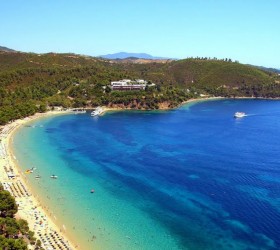 Koukounaries beach is among the most popular beaches of Skiathos, a small island of Greece famous for beautiful beaches and nightlife. Fine white sand beaches, crystal clear blue water and pine tree forest makes the place artistic. The beach is maintained well by the authorities and is home for many species of birds making it among the Best Beaches in Skiathos Greece.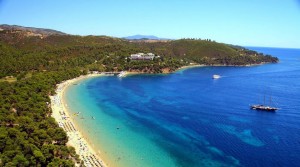 Things to do at Koukounaries Beach
Water sports like Scuba diving is an important attraction at Koukounaries beach due to its clear water. Nearby beaches like Banana Beach, Mandraki Beach, Hidden beach and Maratha Beach are an option for a visit when you are at Skiathos. Cycling or a drive around the marine drive on the opposite side of the beach which has numerous palm trees is also romantic. You must enjoy nightlife at Skiathos island and has numerous pubs on the beach.
Other attractions at Skiathos Island
Sea caves at Skiathos Island can be enjoyed by the tour boats. Lalaria beach and its blue caves is a must see by using a boat trip from the city center. There are many other beaches surrounded by lush greenery in Skiathos which are in close proximity to Koukounaries beach and some of the must visit beaches includes Banana Beach, Agia Paraskevi, and Vromolimnos. The weather is balmy due to the lush greenery in the surrounding which helps you unwind from the busy life.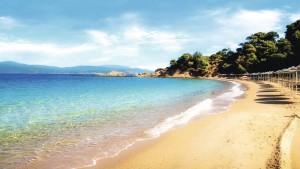 How to reach Koukounaries beach
You can either reach by ferry or by plane to Skiathos Island. Once you reach Skiathos Island, you can plan your trip to Koukounaries beach by taxi. It is better to get a plan for your stay at Skiathos Island and keep a schedule of ferries handy which can help reach nearby destinations quickly. Sometimes unplanned trips are much more fun than a pre-planned trip!!