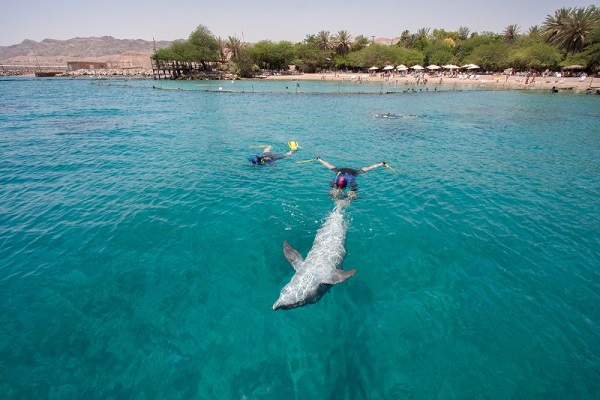 This beautiful calm beach in Israel lies on the shores of the Red Sea. The Dolphin Reef beach is in Eilat and is named so after the bottlenose dolphins that inhabit the area. The beach area is semi enclosed and has a reef too. This is one of the best beaches to see dolphins up close.
However, it is important to understand that the dolphins are not captive and they can be found here because they like the area. People can go snorkelling in the clear blue water to see the reef or just swim with the dolphins. Dolphins are friendly and intelligent creatures and love to interact with humans. If you want to experience this then do try the Dolphin Reef beach.
There is a wooden pier that also goes to the dolphin pen and you can interact with them without entering the water. There is a small stretch of sand as well if you want to chill out and just relax. Take a picnic basket or read a book as you lie in the warm sand. The sand is pebbly and there are toilets too. It is one of the best beaches in Israel to unwind.
A little distance away are relaxation pools is a botanical garden with hot water pools – freshwater, seawater and sulphur pools. Spa treatments and music complete the experience here. You can relax in the pools and enjoy refreshments at the bar. This place is open from 9 to 11 and allows only adults.
There is an entrance fee for visitors to the beach – 44nis for children and 64nis for adults. Disabled individuals and students can avail special discounted fares. The beach is open from 9 to 5 on normal weekdays but closes earlier on weekends and holidays.  The beach area is accessible by taxi and bus from Eilat and you get the ultimate experience.