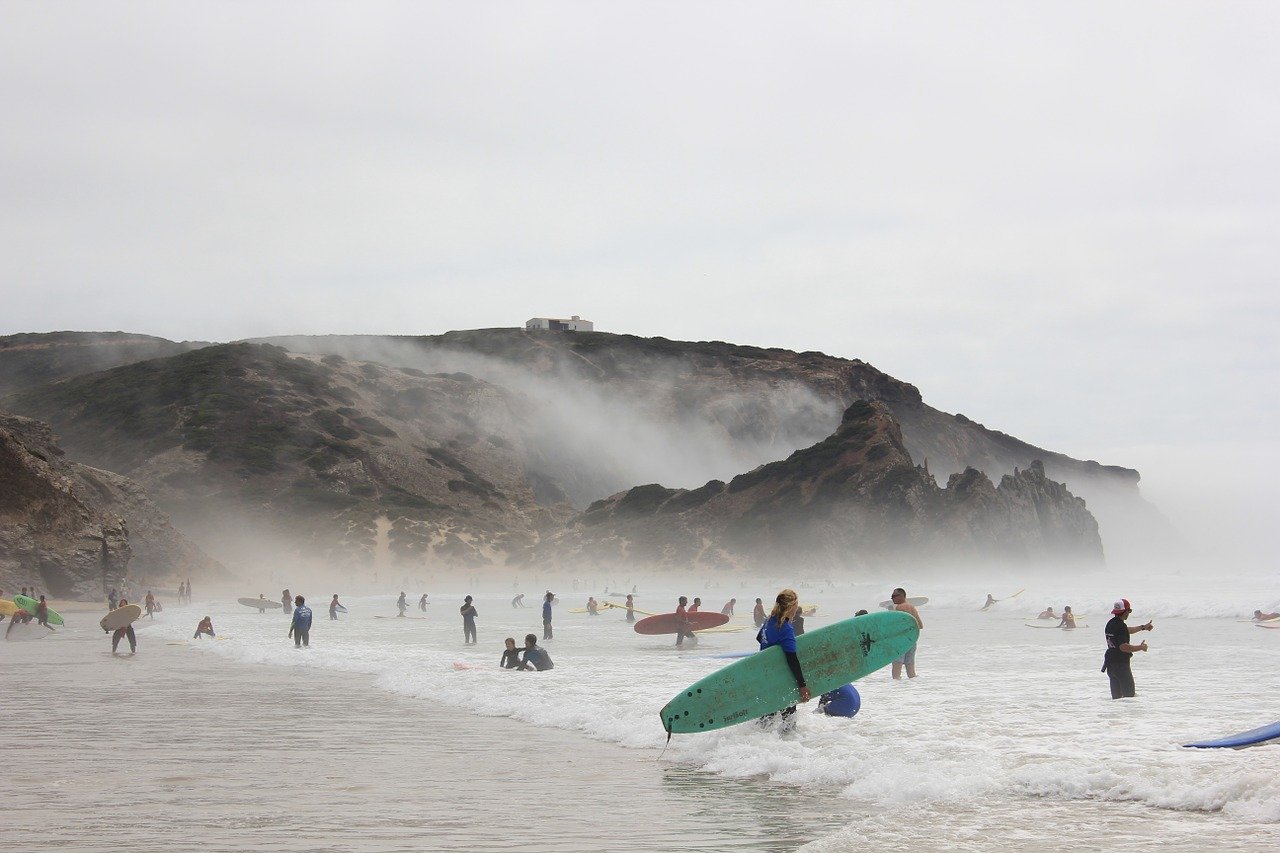 5 Best beaches of Portugal you can visit in 2021
Portugal is a Mediterranean country located in the Iberian Peninsula. It has been inhabited by Celtic and pre-Celtic peoples and the land has continuously seen settlers. The climate is pleasant and most of the country is surrounded by an ocean which means long coastlines. The history, art, culture and cuisines in Portugal make it a lovely place to see. The country has some of the best beaches in Europe as well. Although it is difficult to pick the top five only, if you are planning to see the coast, then here is a list of the five best beaches of Portugal.
Amado beach
One of the best surfing locations, Amado beach is a pretty beach in Algarve. It is a long, curved beach with immense cliffs and visitors will have to hike to get here. It is one kilometer long, a big stretch of sand. It is quite remote, rough and wild. Nature lovers, families and surfers frequent this beach and there are wooden staircases that make it a bit easier to get here. There are walking trails around the beach and one can reach the area by car. Nearby villages have restaurants and hotels for tourists to put up in. However, there are no washrooms and showers on site so prepare for that.
Praia da Marinha
Known as the classic beach with azure waters, the Praia da Marinha in Algarve has a warren of coves and one of the romantic destinations in Portugal. This beach has often been featured on picture-perfect postcards because it is quite pleasing to the eyes. The water is clear and it laps up against the limestone rock formations. To get to the beach one has to drive off of the main road and then take a steep descent down. You can go snorkeling and explore the little nooks and crannies around. Boats are available for hire and there is a seasonal fish restaurant in operation.
Canide Sul Beach
The Canide Sul beach lies in the Vila Nova de Gaia municipality and it is around 8 kilometers from Porto. Visitors often put up in Porto and then visit this beach. You can also use Porto Vacation Rentals and then visit the beaches around for the best experience. The beach can be accessed by wooden walkways. There are outdoor parking, showers, bars, restaurants and sunshade rentals available too. Surfing and diving are popularly undertaken due to the excellent climatic conditions here.
Ponta Da Calheta
Off Madeira Island is the Porto Santo Island and it has the finest beaches on the whole archipelago. It stretches for 9 kilometers so you can imagine a long stretch of sand. The beaches here have fine powdery sand and feel quite therapeutic. It is technically one long beach that is divided and named separately. The Ponta Da Calheta is great for watching sunsets and sunrises. The beach is relatively empty and you can enjoy views all by yourself. There are some caves around the corner and you can see those with a kayak tour. At low tide, small tidal pools make an appearance and children will love to explore them being at one of the best beaches of Portugal.
Ribeira do Cavalo Beach
This exotic looking beach has a tropical veneer and reminds one of the Caribbean. It is one of those isolated beaches at the base of a cove on the coastline. It can be accessed only by foot or boat. The crystalline waters are hemmed by vegetative masses on three sides and it requires a steep hike to get to the beach. There is no lifeguard though and you won't see any vehicles around. You can snorkel in the secluded bay teeming with marine life if that is what you like. Or just enjoy the waves and the sand. It is really close to Lisbon and accessible. Because of this, it is easily one of the best beaches of Portugal.