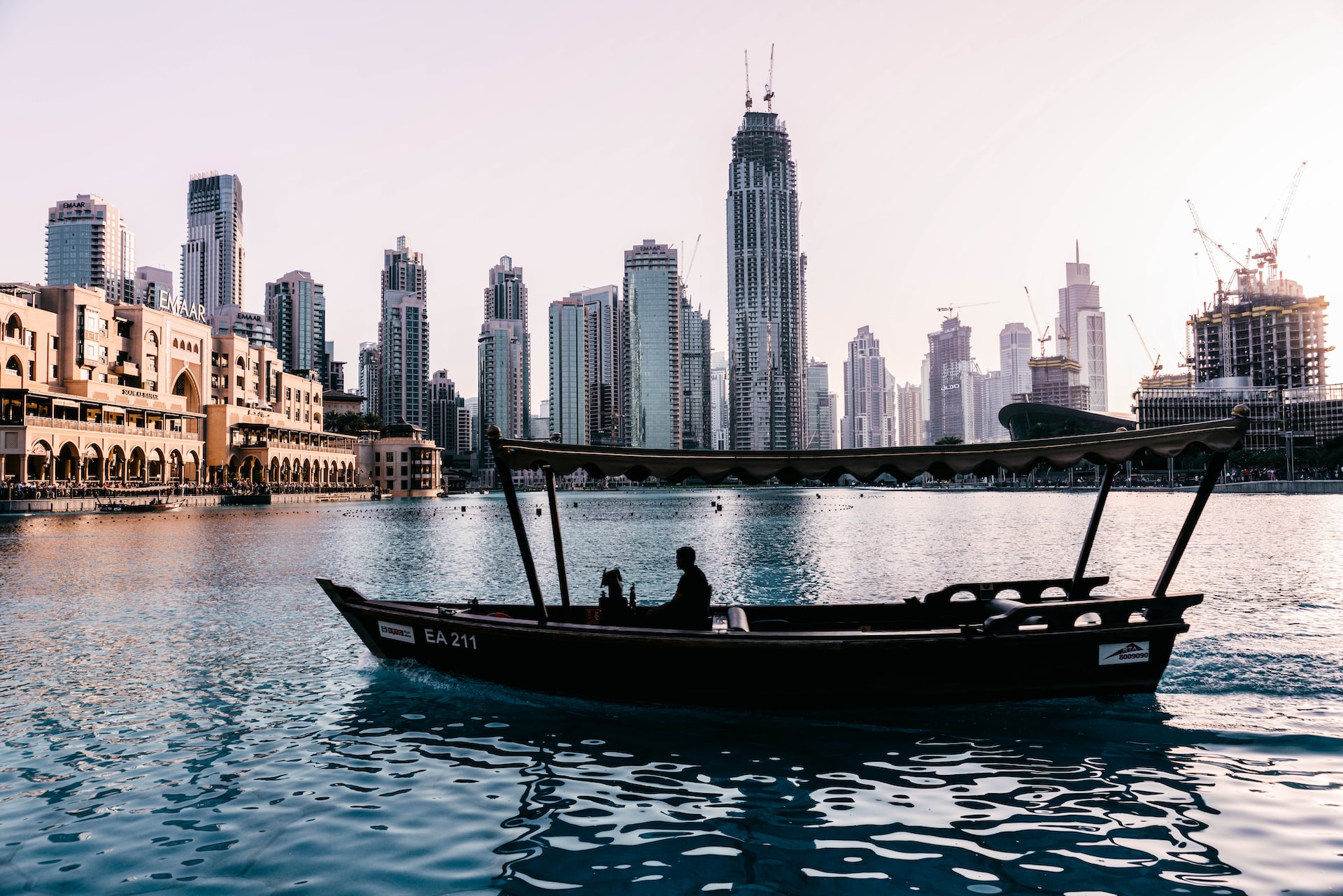 Five Top Lakes in Dubai for a Family Vacation
Dubai may be a desert city, but it has some stunning lakes that are rife with activities and experiences. Whether you want to escape the city's mundane sights or simply looking for a refreshing retreat from all glitz and glamor, the following list of top lakes in Dubai makes a perfect complement to your Arabian holiday. They vary from unequaled, quaint lakes tucked away in the picturesque desert setting to the lakes set right in the heart of the city.
1. Burj Lake
It is rare that people don't know Burj Lake. For those few who are unversed about this lake, it is where the iconic Dancing Dubai Fountain show takes place. With the tallest of its kind Burj Khalifa, the classic Souk Al Bahar, and the massive Dubai Mall in the backdrop, Burj Lake, along with its breathtaking fountain show, is one of the centerpiece attractions of Downtown Dubai, making it a must-visit on any Dubai holiday. You can access the lake as well as the show for free unless you have plans to go on a boat ride along the lake.
Location: Near Burj Khalifa and The Dubai Mall at Downtown Dubai
Opening Hours: 17:45 hrs to 23:30 hrs
Top Things to do
. Abra Ride at Burj Lake: Nothing comes closer to this experience if you wish to secure for yourself a premium vantage point to take in both the lake and the fountain show. It gives you the most up close views of the fountain show wherein over 20 gallons of water sprouts up to a height equivalent to 45 stories during the aquatic performance that is in perfect sync with music and light. The whole experience is further enriched by over 6,500 special lights as well as 50 color projectors. The plus is that it lets you see the stunning sights from a new perspective.
. Dubai Fountain Boardwalk: If you are looking for a cost-effective alternative over abra ride at the lake, there is Dubai Fountain Boardwalk, also known as Dubai Fountain Bridge. This 272 meters long bridge is exclusively built to offer the most astonishing views over Burj Lake and its Fountain Show.
. Dining Overlooking the Lake: Burj Lake is surrounded by a vast spectrum of dining options! Step into one of them that directly face the lake and the fountain for a culinary session like never before.
2. Al Qudra Lake
Be it for a quick escape or for a relaxed picnic or an action-packed excursion, Al Qudra Lake is another lake that you can visit in Dubai. It can be reached in less than an hour drive from the city center. At about 10 hectares, this sprawling man-made lake lies within the Al Marmoom Desert Conservation Reserve, along the unscathed dune setting of Saih Al Salam Desert. The best thing is that there is no entry fee to access this awe-inspiring lake.
Location: It is located on Al Qudra Road. Subject to the direction you are traveling from in Dubai, it is approachable via Emirates Road or Dubai Al Ain Road.
Opening Hours:  It is open on all days and operates on 24 hour basis.
Top Things to do
. Camping: With its pristine and tranquil ambience, Al Qudra Lake and its surroundings (with several unique plant and wildlife species) make a great spot for camping and BBQ experience in Dubai.
. Cycling: Another major reason that attracts visitors to this lake is the Al Qudra Cycling Track that is perfect for both novice and seasoned cyclists. With the right measure of action, nature and fun, it is worth adding a session of cycling on your visit to Al Qudra Lake.
3. Love Lake
This is one of the must-visit lakes in Dubai! True to its name, Love Lake is definite to blow you away with its mesmeric milieu overflowing with love and romance, thanks to its two lakes that resemble like a huge interlocked heart. That's not all; there are trees along the lake which spell out as 'Love' on an aerial image. Located just 30 minutes to 40 minutes' drive away from the city center, it is surprisingly one of the hidden gems in Dubai, close to Al Qudra Lake. And did we say that you don't have to pay entrance fee to access this lake?
Location: It is located about 10 minutes away from Al Qudra Lake, in the Saih Al Salam Desert region.
Opening Hours:  It is open on all days on 24 hour basis.
Top Things to do
. Snap Some Insta-Worthy Images: Surrounded all over by heaps of love signs and elegant heart-shaped structures, you can't help but cram your phone or camera with tonnes of images.
. Admire Flora and Fauna: Despite its arid setting filled with desert sands, the lake and its area is a safe abode for a wide variety of wildlife, plants and trees including the Ghaf – the UAE's national tree.
. Spot Unique Bird Species: The scenic background of the lake also attracts several birds representing over 150 species.
. Catch Breathtaking Sunset Views: It is an unequaled experience to take in the desert sunset views with this stunning lake in the backdrop.
. Camping: With its amazing mix of captivating scenery and love-filled setting, it is a favorite of campers too.
4. Moon Lake
You will get to see some impossibly fabulous attractions in Dubai and one of the most gorgeous among them is the Moon Lake. Shaped like a crescent moon, this lake is in close proximity to Al Qudra Lake in the middle of the desert. Needless to say, this lake (measuring 10 meters by 40 meters) has everything to win your heart with its pleasant quietude location filled with dunes, trees and of course, the best views.
Location: It is located near Al Qudra Lake and Love Lake in the Al Qudra region.
Opening Hours:  It is open on all days on 24 hour basis.
Top Things to do
. Spot Indigenous Wildlife: Yes, you will get the rare chance to catch the region's native animals such as Arabian oryx on your visit here.
. Enjoy a Peaceful Stroll: The whole region is generously endowed with a pleasant tranquility, making it a great place to loosen up and wind down.
. Watch Compelling Sunset: With its location in the desert, you can expect to marvel at the beautiful sunset views.
5. Hatta Lake
If it is a complete shift in scenery that you crave for, make a beeline to Hatta Lake, located about 150 kilometers away from Dubai. Nestled in the unrivaled, antiquated mountainous settings of Hatta, Hatta Lake (with its turquoise green waters) is a dream-come-true spot for nature enthusiasts, water sport lovers and outdoorsy people alike.
Location: It is located high at Hajjar Mountains, about 90 minutes' drive away from Dubai International Airport.
Opening Hours:  It is open on all days on 24 hour basis.
Top Things to do
. Kayaking: Kayaking along Hatta Lake is ideal for anyone who wishes to indulge in a relaxed adventure while enjoying the most exquisite views.
. Water Bike Ride: This is another exhilarating activity you can try at Hatta Lake. Dependent on your preference, you can choose from single, double or triple water bikes.
. Boating: Don't want to participate in intense water activities? Simply go on an electric or more fun-and-thrill packed pedal boat ride along Hatta Lake.
Dubai Lakes And Activities: Top Things To Know
. As all these lakes are set outside, the best time to visit them are during the winter season (November to March) when the weather is pleasant and enjoyable.
. For your trip to the lakes (Al Qudra Lake, Love Lake and Moon Lake) placed in the desert region, it is highly recommended to reach here on a 4X4 drive.
. Make sure that you don't cause any kind of damage to the lake and ecosystem. Avoid feeding wildlife or bird species here.
. If you are looking for more thrilling water activities or adventures in Dubai, you can check out yacht rental Dubai
Conclusion
These top lakes in Dubai are more than a place to unwind and de-stress. With a vast array of wonderful attractions and superb facilities on offer, it allows for an amazing outing enriched by activities that are ideal for all age groups and skill levels. Dependent on your preferred lake, you get to enjoy swimming, go boating, and try other water activities. So, which of the above lakes is your favorite? Let us know in the comment section below.