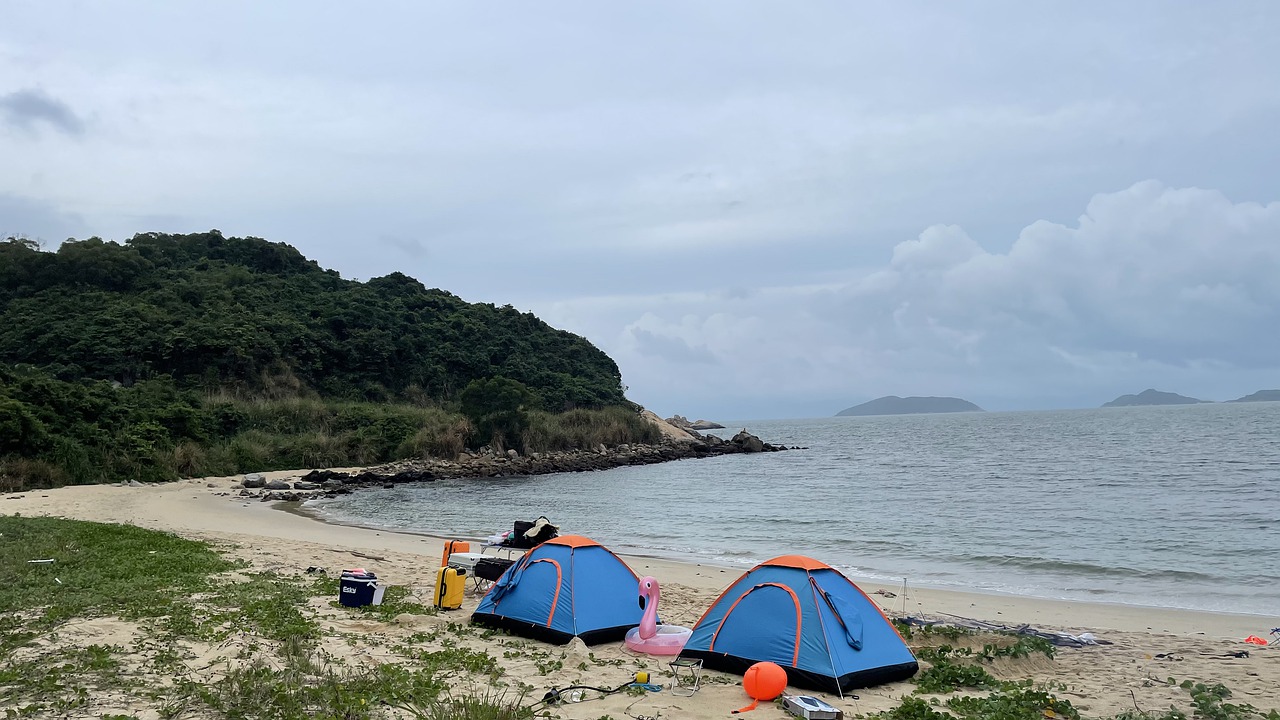 6 Amazing Wild Beach Camping Locations on the East Coast, US
The East Coast associates you with crowds, kids running around screaming, loud music, and people chattering all the time! But, what if we told you that you can escape the crowd and noise while remaining on the East Coast? We will shortly provide information about the beach camping locations on the east coast you can visit.
The Atlantic coast is famous for the resorts and amazing fancy beaches; however, it also hosts beautiful camping spots that have preserved the simplicity and amazing beauty of nature. So, if you are the type that wants to avoid crowds and head on an active holiday, we are helping you find the best camping spots to enjoy a quiet day at the beach, a hike, try surfing and explore the wildlife.
For the far more adventurous, we also suggest that you take your backpacking gear and head on a backpacking journey to visit more than one at a time. Although all these places are great to visit year-round, going there in summer is most likely, so you will only need spacious and quality backpacking tents, swimsuits and you are ready for the best days at the beach and nights under the stars. In the following, we will present to you the top 6 amazing wild beach camping locations on the East Coast.
Wild beach camping locations
1.   Acadia National Park, Maine
When it comes to Acadia National Park, we cannot guarantee that you'll be all alone out there. What we can promise is that you will have the time of your life! The Acadia NP is actually a pretty popular location amongst campers on the East Coast.
There are 5 campsites, so you'd like to reserve your place ahead. If you want to avoid the crowds, you can visit it in winter, but that way, you won't be able to swim in the lake that is just several miles away from you. The beach itself is mesmerising, and campers are often amazed that there's even a lake there!
2.   Anastasia State Park, Florida
Anastasia SP is located in St. Augustine, Florida. If it ever happens that you're visiting the place, and you get bored from walking around town, you can always make a sharp turn and head to the park. To be honest, St. Augustine has some really beautiful beaches, but none of them can compare to the one in the State Park!
There, you can hike for hours, and swim along the shore as much as you want. The place is quiet and relaxing. It's a great choice for anyone who wants to spend their day just chilling and laying on the sand, while the day goes on. But, for the adventure seekers, there are possibilities to rent canoes, kayaks, sailboats, and bicycles.
3.   Huntington Beach State Park, South Carolina
Another wonderful place that offers you both fun and peace at the same time. This wild beach is actually pretty popular as well, but it's a huge place, so your space there is guaranteed! One thing less to worry about. There are tons of things that you can do and see here and is one of the amazing beach camping locations on the east coast.
First of all, one thing that makes the Huntington Beach SP different from the rest of the camping locations mentioned here, is the variety of birds that live here. There are over 300 species of birds, and during your stay there, you'll be able to do bird-watching.  If you're lucky enough, maybe you'll even see a sea turtle! With over 100 camp spaces where you can set up your tent, you'll be able to spend the night here. You may not be able to see the beach from your tent, but you'll be able to breathe the sea air and listen to the ocean waves.
4.   Hammock Beach State Park, North Carolina
When your main goal is to come closer to nature, you need to choose more natural and Eco-friendly ways. In this particular case, that would mean leaving your car behind. The only way to reach the Hammock Beach SP is by a ferry or a boat. The lack of modern stuff makes this place a great adventurous ground for every adrenaline seeker!
There are no hiking trails on the island, but there are lots of hidden gems that you can find by wandering around, such as great views and secret tide pools! You can always go kayaking, canoeing, and paddling since there are well-marked paddling routes.
5.   Cape Henlopen State Park, Delaware
Delaware has a wild side, with huge forests and a huge coastal beach as well! Here you walk along the beach for hours! You can even get to do horseback riding. How exciting is that?
There are some excellent hiking and biking trails in the SP, as well as some places for rest in between them. The place is huge, so privacy is not a problem at all! Far away from the crowds, there is a surfing beach meant for giving you the adrenaline rush you've been craving for! If you're camping with your family, there is a special beach meant for families with little kids as well.
6.   Hither Hills State Park, New York
We'll finish off with this SP, located in NY. If you want to avoid the crowds, we'd advise not visiting during the weekends. But if that doesn't bother you, then go for it!
The most incredible part of the SP are the walking dunes, which can be up to 30 feet high! Most of the campsites offer a special water view, and you can drink your morning coffee while looking at the waves in front of you. The Park itself isn't exactly a hidden gem, but it's definitely worth your time and is one of the best beach camping locations on the east coast.