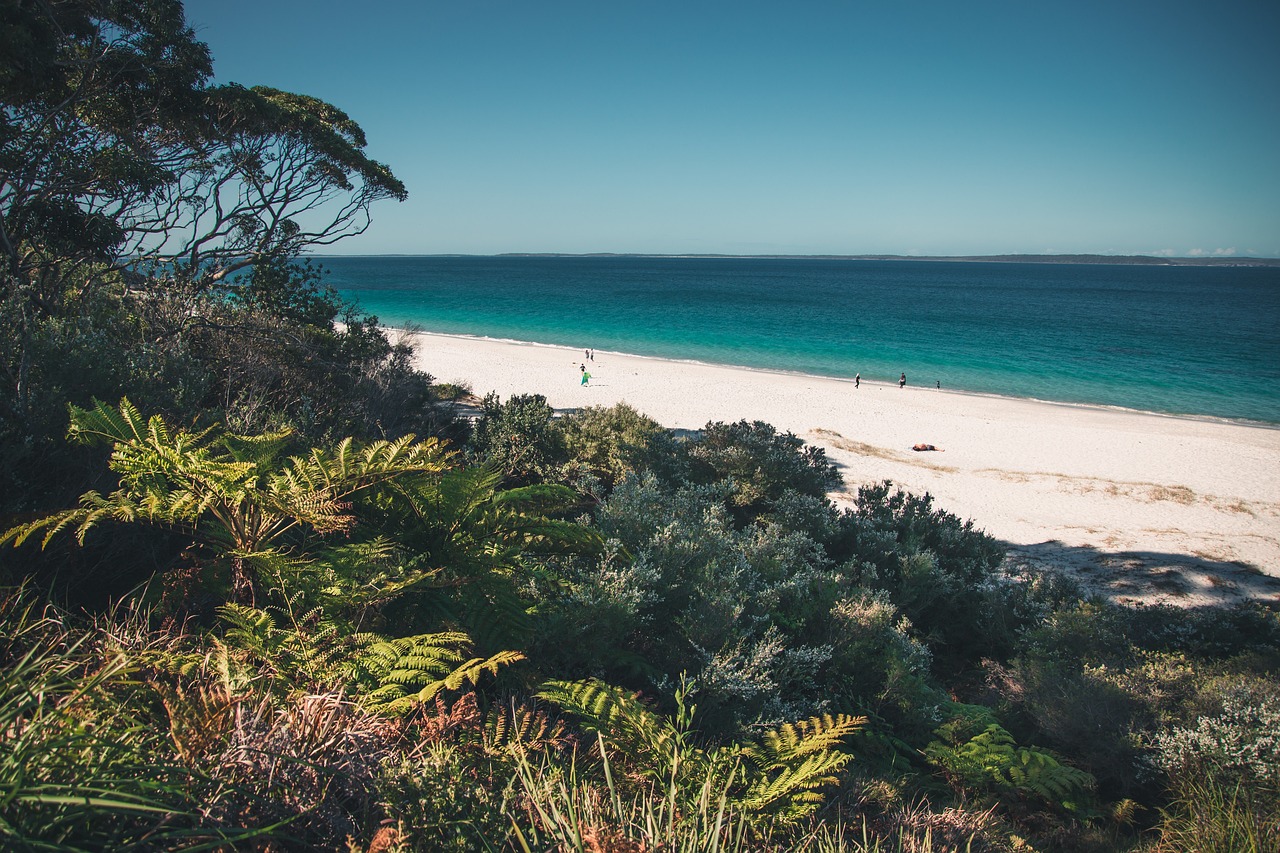 8 Beautiful Beaches To Explore In Jervis Bay, Australia
Traveling is more than just ticking off destinations on a map; it's a thrilling adventure that sparks curiosity and broadens our horizons. And by immersing ourselves in new cultures, landscapes, and experiences, we get to discover a world beyond our wildest imaginations. And when it comes to captivating destinations, few compare to the enchanting beauty of Jervis Bay, Australia—a place where breathtaking natural wonders beckon.
Jervis Bay is a jewel on the south-eastern coastline of Australia. It is popularly known for its pristine landscapes and crystal clear waters. Nestled within the borders of New South Wales, it is a sanctuary for nature lovers, offering the perfect escape from city life. With a generous number of beaches, there are various shorelines for every type of beachgoer.
Here are eight of the most beautiful beaches to explore in Jervis Bay, each one an exciting adventure waiting to happen.
Hyams Beach: The World's Whitest Sand
Make a day's plan here and remember to take your camera. The radiant beauty of the beach calls for spectacular photography. As per the Guinness World Records, Hyams Beach happens to be the whitest sand in the world. This beach with powdery sand is as surreal as it is beautiful. The turquoise water is perfect for snorkeling, swimming, or simply basking in the sun.
Greenfield Beach: A Secluded Paradise
Your eyes are going to have their most soothing treat. For those who want to enjoy a break from the bustling crowds, Greenfield Beach is the most cherished location. Encompassed with green vegetation, the beach presents a serene ambience where you can reconnect with nature. Also, it is an excellent place or a delightful spot for a meal with your family or friends.
Murrays Beach: Pristine Marine Life
Located within the Booderee National Park, Murrays Beach offers visitors a chance to explore Australia's unique marine life. The waters here are protected, making them a sanctuary for various aquatic species. Whether you're snorkeling, swimming, or paddle-boarding, the opportunity to encounter dolphins, penguins, and various types of fish is simply remarkable.
Make your travel experiences more convenient and enjoyable by selecting accommodations designed to cater to your every need and desire. For instance, if you're seeking a luxurious retreat in this picturesque coastal destination, why not explore options like a Jervis Bay holiday home that offers the perfect blend of style, comfort, and convenience?
Callala Beach: Gentle Waters and Local Wildlife
Callala Beach is perfect for families with young kids or those looking to relax by the sea. Its calm, shallow waters are ideal for safe swimming or wading. Keep an eye out for the local wildlife, too; you might spot a kangaroo hopping along the shore or the occasional dolphin swimming nearby.
Bowen Island: A Paradise for Bird Lovers
Accessible only by boat from Huskisson, Bowen Island offers a unique beach experience. It's home to one of Australia's largest little penguin colonies, making it a paradise for bird watchers. Besides enjoying the sandy shorelines, a trip here also gives you the unique opportunity to observe these adorable creatures in their natural habitat.
Cave Beach: Meant for the Adventurers
Cave Beach offers a little more adventure to those who seek it. Famous for its stunning limestone caves, this beach allows you to soak in the sun and explore its unique geological formations. It's also a popular camping site, perfect for those who wish to experience the magnificent Australian night sky.
Blenheim Beach: A Tropical Escape
Blenheim Beach is another gem of Jervis Bay. It is known for its clear turquoise waters and the surrounding tropical rainforest. This serene beach is perfect for leisurely swims and snorkeling, with plenty of opportunities to spot exotic marine life. Its lush backdrop offers excellent walking trails to explore the rainforest.
Moona Moona Creek: A Child-Friendly Lagoon
Moona Moona Creek offers an ideal setting for families with children. Its shallow lagoon-like waters provide a safe and fun environment for kids to frolic around. Furthermore, this is also an excellent spot for paddle boarding, and the grassy areas here are great picnic spots.
Greenpatch Beach: A Tranquil Adventure
Nestled inside the sublime Booderee National Park, Greenpatch Beach is a secluded and tranquil beach ideal for those seeking solitude and serenity. With its breathtaking views of the beach and its verdant surroundings, this intimate paradise is an excellent place for picnics and hiking.
Wrapping Up
As you can see, the beaches in Jervis Bay are as diverse as they are beautiful. Ranging from the whitest sands of Hyams Beach to the wildlife-rich Bowen Island, every beach offers its unique charm and unforgettable experience. So, whether you are an adventurer, a nature lover, or planning a relaxing holiday, the beaches to explore in Jervis Bay are the best place to leave you in awe.
So, are you ready for the best beach vacation with your bae? Get ready to fall in love with a beach paradise in Jervis Bay, Australia.