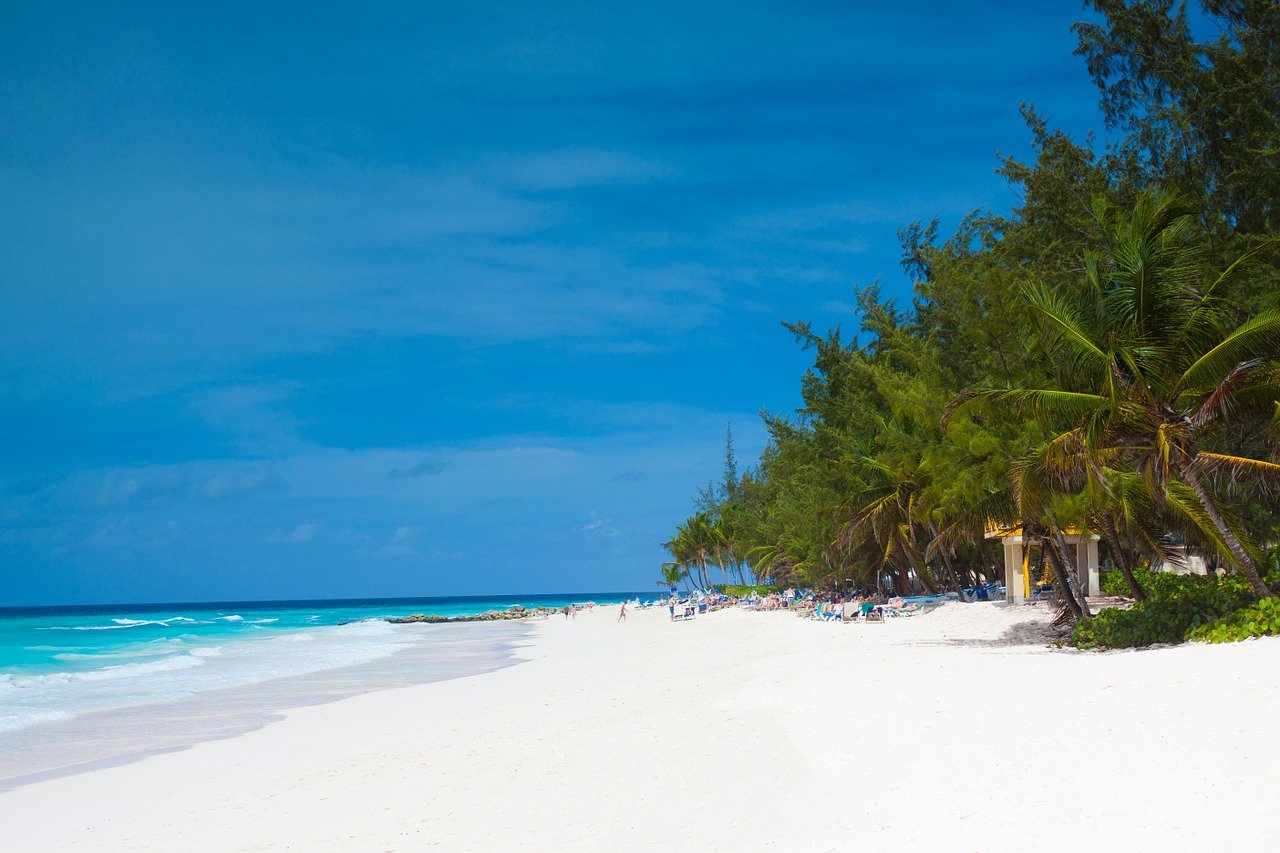 Most romantic places in Barbados
The island country of Barbados is a dreamy vacation destination for couples apart from being an independent British Commonwealth nation. Surrounded by the waters of the Caribbean Sea, the natural beauty and warm tropical climate of Barbados attracts many visitors throughout the year. Additionally, the vibrant culture along with the unique places to explore within Barbados, makes this place an ideal romantic getaway for couples. Some of the most romantic places in Barbados that you should visit with your partner have been listed below.
Carlisle Bay
Carlisle Bay is located in southern Bridgetown which is the capital of Barbados. It is one of the most preferred honeymoon places in Barbados that is famous for its beautiful blue waters. There are several opportunities to relax and have fun that include swimming, water sports and snorkeling. Snorkeling is a particular favorite at Carlisle Bay because its waters hide 6 shipwrecks which are excellent sites for snorkeling. You can spot some exotic marine animals such as turtles, fishes and rock lobsters while you're at it. Apart from the water activities, the shore is lined with resorts where you can find a comfortable and luxurious stay to relax on your honeymoon.
Animal Flower Cave and Restaurant
Arguably one of the the most romantic places in Barbados is the Animal Flower Cave and Restaurant in Conneltown. This is the only sea cave in the island that is accessible and is a marvelous geological wonder filled with rock formations that you can explore and rock pools that you can enjoy swimming in with your partner during good weather days. The best part about the cave is that it features a restaurant right next to it that offers some stunning views to all its guests. You can walk to the restaurant after exploring the cave and enjoy a delicious dinner against a beautiful backdrop.
Hunte's Garden
If you are looking for peaceful Barbados honeymoon destinations to relax after a hectic wedding schedule then Hunte's Garden in Barbados will be the perfect place you and your partner. It is open from 9 am to 5pm every day and is filled with some of the most beautiful and rare flowers, shrubs and trees. You can choose to walk along the several pathways amidst this well-kept garden and enjoy some quality time with your partner among the greenery. The garden also attracts some local birds and animals so you can witness them too if you're lucky.
Barbados Boardwalk
There is something about beautiful sunsets that makes the atmosphere romantic, and this is the exact reason why you should visit the Barbados Boardwalk when you're on a Barbados tour for couples. Located on the southern coast of the Island, the Barbados Boardwalk is ideal for couples who want to enjoy some privacy. This place is devoid of the usual jet skis and beach parties but provides some of the best sunset views in all of Barbados. You can enjoy a meal at the local restaurant and witness the stunning sunset from the Boardwalk that has several seats for viewing and taking pictures.
Mount Gay Rum Distillery
One of the must visit historical places in Barbados is the Mount Gay Rum Distillery. This distillery was first established in the year 1703 and is one of the oldest rum distillery in the world. You can visit Barbados Travel Guide for more information about Barbados, places to explore and things to do there. Head over to this place for some rum tasting and relaxing in the adjoin green gardens. You can take a tour of the place to see the traditional methods of making rum. Later you can indulge in a delicious Bajan lunch with cocktail in the company of your partner.
Catamaran Sunset Cruise
If you ever go to Barbados, you must go on the Catamaran Sunset Cruise. It is a relaxing cruise trip that offers, as the name suggests, some breathtakingly beautiful sunset views while you are at sea. The cruise takes you along the western coast of the island and stops at shipwrecks where you can see it and also snorkel around in the surrounding waters. Certain cruises will also offer drinks and dinner on board.
St. Lawrence Gap
A few miles south of Bridgetown is St. Lawrence Gap in Christ Church which is one of the liveliest places in Barbados. If you and your partner enjoy parties and nightlife then St. Lawrence Gap is a place that you must visit. This place is filled with bars, restaurants and night clubs that are open till late at night which play different genres of music catering to a wide range of tastes. The food and drinks are excellent and you can party as much as you want along with your partner.
The Boatyard Club
Another major attraction in the capital city of Bridgetown is the Boatyard Club that lets you enjoy all the adrenalin pumping water activities. Located on Brownes Beach, you can indulge in iceberg climbing, rope swinging, glass bottom boat tours and banana boat rides at the Boatyard Club. The place has an adjoining restaurants where you can get refreshments in between the sporting excursions.
Oistins
If you want to mingle with the locals and know more about the local life in Barbados then you should visit the small fishing village of Oistins. You can stroll through streets of this village that is lined with colorful houses that adds charms to the village. You can also go fishing with the locals and participate in Oistins Fish Fry activity which offers plenty of good food with live music.
Miami Beach
The Miami Beach in Barbados has something to offer for everyone. The north side of the beach has calm waters which are ideal for swimming or relaxing on the sand while the south side of the beach has intense waves which are fun for surfing. All parts of the beach have lifeguards on duty so that you can enjoy without any worry. The shore has numerous resorts and restaurants where you can stay and enjoy your time in Barbados.