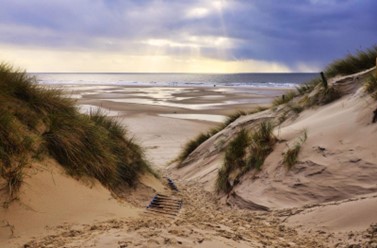 Discover North America's 5 Most Exotic Beaches
North America is home to some truly breathtaking and exotic beaches that rival the best in the world. Whether you're seeking a chilled-out getaway, sipping cocktails by the sea, or you're more of an outdoor adventurer, North America has it all. So pack your bags and be whisked away by these 5 enchanting exotic beaches.
Sunset Beach, North Carolina
Sunset Beach was named one of the World's 21 Best Beaches by National Geographic, and it's hardly surprising. As well as its pristine shores and powdery white sands, there is plenty to do in this idyllic setting. As the name suggests, Sunset Beach offers stunning sunsets that paint the sky in vibrant hues. Take a leisurely stroll along the shore, collect seashells, or simply unwind in the tranquillity of this hidden gem.
After getting off your private jet charter, discover Bird Island, a favourite amongst many visitors, as you can discover the local wildlife. Take a guided tour around the area to really take in the views and do a spot of birdwatching. On your way, stop at the Kindred Spirit Mailbox to write your thoughts, stories and dreams.
Seeking a waterfront dining spot? The Boat Landing Restaurant should be on your itinerary — you'll love tasting the local seafood and delicious snacks. Sports enthusiasts will enjoy a round of golf at Sunset Beach, with some incredible sights to behold. Tee off surrounded by the lush green landscapes in this serene coastal setting.
Cape Breton Island, Nova Scotia, Canada
Cape Breton Island is a captivating beach to visit, thanks to its scenic beauty. You can expect rugged coastlines, rolling hills, pristine lakes and charming fishing villages. Walk around the Cabot Trail for spectacular views of the coastline, mountains, and the Atlantic Ocean. Outdoor adventurers should explore the Cape Breton Highlands National Park, where there's enough hiking and camping to make a weekend stay out of your trip.
Cape Breton Island is home to a diverse range of wildlife, making it a haven for nature lovers. Look for seals, whales, and seabirds along the coast. You can also spot moose, black bears, and other wildlife species. You can embark on guided tours or keep your eyes peeled while exploring the island's natural wonders.
Big Sur, California
Enjoy the panoramic views of Big Sur in California. Its dramatic scenery makes it one of the most picturesque beaches in North America. With awe-inspiring views of the Pacific Ocean and towering cliffs, the beach looks like something straight from a postcard. The region has its own natural beauty, and Julia Pfeiffer Burns State Park is a stunning place to visit. It is known for its iconic McWay Falls, a waterfall that cascades directly onto a secluded beach. The beach wows visitors with its purple sand, created by manganese garnet deposits that wash ashore — an incredibly unique coastal experience.
Big Sur also offers artistic experiences and has long been a haven for writers and artists. There are several art galleries, studios and cultural retreats for you to recharge those batteries and feel inspired. If you want to unwind, reconnect with nature and camp under the stars, or stay at a luxury retreat, Big Sur offers a peaceful escape from the hustle and bustle of everyday life.
Hanalei Bay, Hawaii
Hawaii is a tropical paradise, and Hanalei Bay is a treat for the eyes. The bay is nestled between majestic mountains and the azure waters of the Pacific Ocean. You will be in awe of the crescent-shape shoreline, golden sand beaches and lush green landscapes. The beaches at Hanalei Bay are perfect for relaxation and water activities, as the shores are pristine and picturesque.
Not far from the beach, you can discover the charming town of Hanalei, where the locals are welcoming and friendly. Taste the fresh seafood and tropical fruits and tuck into the delicious Hawaiian cuisine. You can also drive up to the Hanalei Valley Lookout, where you will be treated to jaw-dropping views of the waters and the surrounding mountains.
Siesta Beach, Florida
Florida's Siesta is another Exotic Beach boasts turquoise waters and white powdery sands that will have you dreaming of your next getaway. Composed of 99% pure quartz, the sand remains cool even on the hottest days, making it a pleasure to walk on and perfect for beach activities. Siesta Beach is also an award-winning beach! It was named Number One Beach by Dr Beach, a renowned coastal expert and professor, for its natural beauty and cleanliness.
Be sure to stick around in the evenings for its spectacular sunsets. Capture stunning sunset photographs or simply revel in the natural beauty of this daily spectacle. After catching the sunset, explore Siesta Village, filled with boutiques, restaurants and nightlife options for an idyllic end to your day. This is the perfect destination for your next family holiday!
Conclusion
From the powdery white sands of Sunset Beach to the breathtaking beauty of Cape Breton Island and the dramatic scenery of Big Sur, these exotic beaches offer a diverse range of experiences for every traveller. No matter what kind of getaway you seek, each destination will give you what you are looking for. It's time to pack that suitcase and book your next flight.