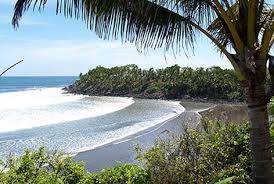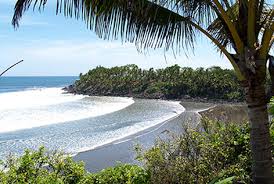 The beaches of El Salvador have their own unique charm, found very rarely in other places of the world. Being the smallest Central American country with a large population, it was very difficult at first to sustain the huge flow of tourists here. However, with increasing urbanization and growing development, the authorities have designed tourism to go along with the pace of the country. The Playa Las Flores is among the top beaches in El Salvador because of its rustic feel and calm surroundings.
Going around in Playa Las Flores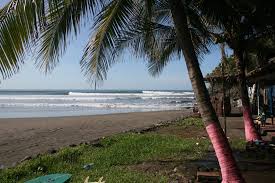 This El Salvador beach is a dramatic, natural cove tucked among the rocky topography and dense tropical jungles, making it an ideal tourist destination around the year. The black sand beach is juxtaposed between the white waves and the green forests. The ancient volcanoes with their outflows also provide for the added beauty of Playa Las Flores. Voted among the romantic places in El Salvador, this beach draws mainly couples on honeymoon, apart from families looking for a fun weekend away in this primordial setting. Bereft of any single tourist spot, this region is abundant with various beaches such as El Cucois, playa El Esteron and the Intipuca beach.
What to do in Playa Las Flores
Like the best beaches in El Salvador, there are a number of water sports and activities for the people touring Playa Las Flores. Surfing, stand up paddleboarding, boat trips around the small islands, water skiing, jet skiing, wake boarding, tubing, parasailing, kayaking, volcano hiking up the most active volcanoes are the top sports. Apart from these, nature hiking through the tropical jungles, lake tours and relaxing on the beach are other things one can do here. There are cheap restaurants and inns to cater to the budget travelers. For the luxury-loving people, there are big resorts which provide superb accommodation and other facilities like guided tour packages, yoga, spas, etc. to make the stay more comfortable. The Playa Las Flores is one of the best maintained beaches and is a must-see place for anybody in the country.