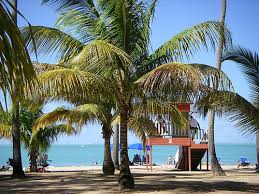 Located in the northeast coast of Puerto Rico, Luquillo is a municipality whose  economy mainly hrives on tourism and perhaps this is why the authorities have taken extra care of its facilities to ensure the comfort of the travelers. For those wishing to visit the white sand beaches, Puerto Rico, Luquillo beach is the perfect place. The long stretches of shimmering white sand lined with the mature green palm trees against a mangrove background poses a picture perfect holiday for beach-lovers.
What to see at the Luquillo beach?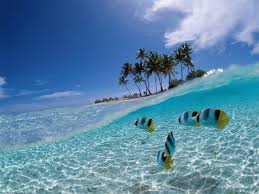 Luquillo, Puerto Rico is known as 'la Capital del Sol' (sun capital) and 'la Riviera de Puerto Rico' (Puerto Rico's Riviera) and for a good reason too! During summer it is packed with tourists and locals, camping or surfing. The sun is not too hot as to burn the skin nor too cool to prevent a comfortable swim. With just the right temperature during day and night, travelers are spotted in numbers enjoying the beach along with all its comforts such as washroom, showers, surf break, camping site, beach chairs and he like. Other attractions include Chief Luquillo Monument, La Fortuna Hacienda, La Pared beach, Ocean View Boulevard, El Parque de Recreacion, the kiosks, Lolita's Rest, El Balneario, La selva Reef Break and the El Yunque National Forest. Undoubtedly, the best beach in Puerto Rico, the Luquillo beach offers facilities and places of interest that are found in few other Puerto Rican beaches.
What to do at Luquillo, PR?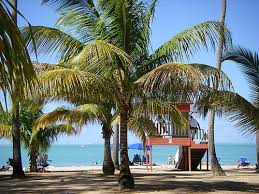 The first and foremost thing to do here is simply enjoy the beach. For the best experience of sunrise, Puerto Rico Luquillo is the place to be. Tourists are spotted as early as 5.30 am to view the beautiful sunrise. Thereafter, the rest of the day is spend swimming, surfing and camping. One requires a permit for camping which is about $10. All camping gears are available at a shop on the beach itself. Kayaking is another sport favourite with the tourists. One can also hike through the national rain forest during the afternoon and be back by evening. The various restaurants and pubs offer excellent food and drinks. If you are a festive person, you might want to visit during the festival months when events such as Patron Saint Celebration, Leatherback Turtle Festival, Coconut festival, The Three Kings Day Celebration are held. Choices are many at this Puerto Rico beach and one just have to pick out their dates and enjoy Luquillo!