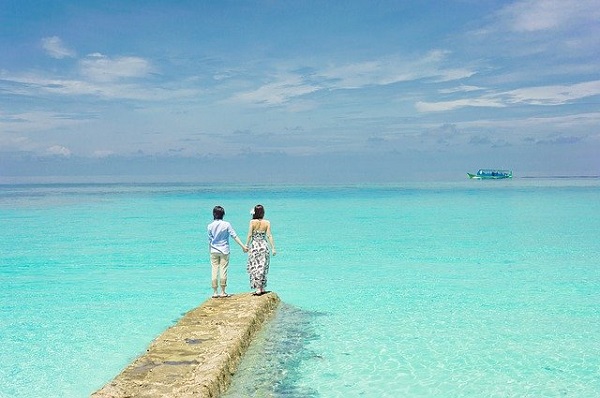 5 Beach Honeymoon destinations near London
London is usually the first choice for the couples when they are planning for a honeymoon and let us blame it on the mesmerising and scenic locations the place has. So, we just cannot deem the entire London to be one honeymoon destination while we have so many specific and romantic places to spend time in with your partner. If you want to make your honeymoon special enough, let us check out on the best beach honeymoon destinations near London but are covered in royalty.
Camber Sands, Sussex
Let's talk about the beauty on the Sussex coast and everything looks shining in the pebble beaches. The beach remains are the most famous aspect in this area and you can look out for some furry friends there and you can take your own for a cute vacation. It takes a 2-hour drive from London and we say it's definitely worth it.
Priory Bay Beach, Isle of Wight
Next comes the Priory Bay Beach, Isle of Wight and that's something we call a hidden treasure in the area. Unlike what you can imagine being a General beach spot, this one is quite peaceful and the gentle slope of the Sandy beach into the water is a place for swimming and sunbathing. Remember to bring beach Essentials with you and then you're good to go.
Botany Bay, Kent
Botany Bay is a Kentish charm and it's the 600 feet strip of sand with the stretch of cliffs. Present between Ramsgate and Margate, this is one of the underrated destinations around London. The white cliffs are something you would find most of the photographs but it is beyond just a scenic view. If you are looking for rock pools and sea creatures and fossil hunting, we got the right place here.
Ruislip Lido, West London
Firstly, it is one of the closest beaches to London and it is present on the Piccadilly line. The nature with the around 700 acres houses on natural lake and the Sandy beach. This is simply a dream come true and you'd understand what you're trying to say when you actually see it. You can choose the place for picnics and sometime in the place that feels like a resort but it is a Woodland reserve with naturally developed features.
Frensham Beach, Surrey
We finally arrived at Frensham Beach, Surrey which we would like to call the picturesque beach. You can take a trip to the beach or even on hot days and swim in the pond water and have a nice cream and literally chill out the entire day. You can find a bar with all the snacks meaning you could make this the best picnic you've ever had. You can also expect a peaceful time and you may find two swimming pools in which one is specifically for adults.
Conclusion
Now that you have the list, it is up to you to decide which one should be the place that helps you capture the best memories of your honeymoon. If you have been to London, take a couple of hours to drive for these beautiful water areas. We think you'd find the list useful if you're looking for beach honeymoon destinations near London. Now, we would like to reassure you that you are making the right decision, by choosing a romantic escape and an adventurous holiday while you choose in London. If you had your beach time, then take a look around the Hatton Garden market where you can purchase some memorable diamond gifts from flawless fine jewellery. These beach destinations could be a unique surprise for every couple and the best place to make the best memories that last long.