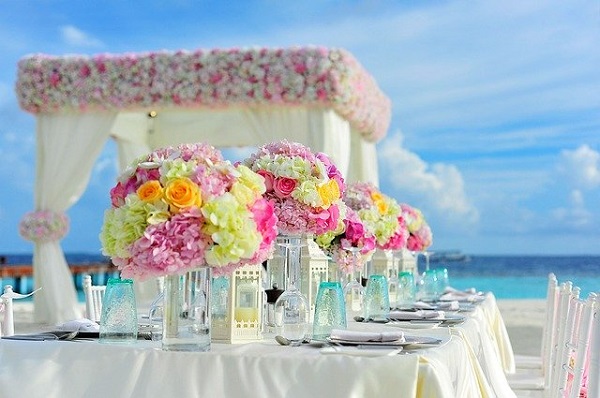 5 Beach Wedding Destinations in the United Kingdom
A destination wedding is something that is being planned in foreign countries in advance, which usually consists of beautiful and luxurious resorts where the couples, their family, and the guests stay for the rest of the wedding rituals. The United Kingdom is undoubtedly one of the most beautiful countries in the world. Hence, there are many charming Beach wedding destinations in the United Kingdom.
Budock Vean Hotel, Cornwall
With Stunning Garden that leads down to the banks of the Helford river, Budock Vean Hotel and Restaurant is one of the perfect sitting and beach locations for Weddings in the UK. The Budock Vean Hotel's location point is near Helford Passage, Mawnan Smith, Falmouth TR11 5LG England. Budock Vean Hotel offers excellent cuisine and friendly service. There are different packages for various rooms, meals, and functions, and depending on the number of guests. The hotel offers a Pendennis lounge that has a maximum capacity of 35 persons worth $300. They have Restaurants for 80 people and a Function suite for 40 people with costs $1250 and $400, respectively.
Polhawn Fort, Cornwall
Polhawn Fort has breathtaking seaside along with stunning views and one of the best beaches in the UK. Polhawn Fort is surrounded by beautiful gardens, summerhouse, tennis court, private beach, car parking, etc. Polhawn offers room service for 24 people where each room has sea views, luxurious bed made with Egyptian Cotton sheets, super soft and fluffy towels, etc. they also offer Banqueting equipment for the accommodation of almost 120 people with crockery, cutlery, glassware, banqueting chairs and options available for circular or rectangle tables. The next service offered by the Polhawn is a fully equipped commercial kitchen where you can have their caterers or choose your own. There are also extra services such as bar options, professional disco sound, and lights systems, etc. The starting costs of the Polhawn Hotel are $3525, with maximum costs of $15,250.
Nash Point Lighthouse, Marcross
Nash Point Lighthouse is a Lighthouse venue and is situated on the magnificent Vale of Glamorgan Heritage Coast. This Amazing and beautiful venue is suitable for small, formal, and informal Weddings. This unique lighthouse venue offers the wedding couple and guests to ascend the tower to view and light up the lantern and see the fantastic views of north Somerset and Devon coastlines and the South Wales coast as far as the tip of the Gower Peninsula. The cost of Nash Point Lighthouse varies from $995 to $1095.
Lusty Glaze Beach
Lusty Glaze Beach's venue type is an outdoor garden. This gives you immense pleasure and that homely feels and peace where the Atlantic laps the shore, and the pace of life becomes a little bit slower. The guests and the couple can take full advantage naturally playful environment with beach activities such as volleyball and rounders etc. The venue is pet friendly, has a water view, on-sight Parking, In-House Wedding Coordinator, and Outdoor Reception Space. Lusty Glaze Beach offers a wedding license, sound system, dance floor, and outdoor ceremony for the wedding ceremony and receptions. It also offers In-House Wine List, In-house Catering, and Alcohol License. The Venue Cost Price starts at $ 4000 to $15000.
Tunnels Beaches, Devon
The Tunnels Beaches has a hand-carved tunnel through the cliff and owns a private beach and is very beautifully designed. Tunnels beaches accommodate 120-day guests and 160-night guests. The venue has Water View, Bridal Changing Facilities, On-Site Parking, Outdoor Reception Space, In-House Wedding Coordinator, Open Flames are also permitted. This also has access to a late-night license, which means that you can party till 2 AM. Tunnels Beaches also offers a wedding license, sound system, dance floor and outdoor ceremony for the wedding ceremony and receptions. Price starts at $4500, and the maximum price is $10,250.
Conclusion
A wedding is something that happens once in a lifetime and is very special and close to every individual's heart. Try to make it as much as memorable and make your every wish count, and no doubt beach wedding destinations in the United Kingdom are not less than Heaven. We believe hiring a freelance videographer can make it all look like a dream come true.